Barnum musical to return at Chichester Festival Theatre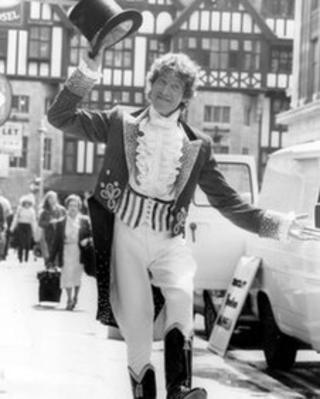 A new version of circus musical Barnum will play Chichester Festival Theatre's summer season, it has been announced.
It is the first major UK production of the show since its original West End run in 1981, starring Michael Crawford.
The show will be performed in a temporary 1,400-seat tent auditorium in a park next door to the Sussex theatre, while the main site is redeveloped.
Produced by Chichester in conjunction with Cameron Mackintosh, it will run from 15 July-31 August.
Broadway actor Christopher Fitzgerald has been cast in the title role as PT Barnum, the legendary US showman who created the famous Barnum and Bailey's Circus.
The role was also played by Carry On star Jim Dale on Broadway, opposite Glenn Close who appeared as his wife, Charity Barnum.
The show follows Barnum as he presents his circus acts and features jugglers, trapeze artist and clowns.
Chichester's summer season will begin with Sir Richard Eyre directing musical The Pajama Game which will open on 22 April at the Minerva Theatre - which will remain open during the venue's £22m refurbishment.
The theatre's critically acclaimed production of Bertolt Brecht's The Resistible Rise of Artuto Ui will return after running last summer.
Henry Goodman will reprise the title role and the play will later transfer to the West End's Duchess Theatre.
A new play, If Only - a political drama about the coalition government, will also be staged at the Minerva Theatre.
Following Barnum, a revival of Tim Firth's comedy Neville's Island will be staged in the Theatre in the Park.
Chichester has enjoyed a string of recent successes with productions transferring to the West End.
Sweeney Todd, Kiss Me Kate and Singin' in the Rain all started off at the theatre before making the move to London last year.