Oscar Pistorius documentary planned for BBC Three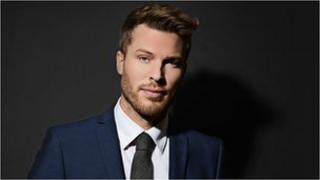 BBC Three has commissioned a documentary on the death of Reeva Steenkamp, allegedly shot to death by athlete Oscar Pistorius.
The 60-minute documentary will be fronted by Rick Edwards, who presented some of the 2012 Paralympics coverage.
Edwards, who met Oscar Pistorius while he was in London for the Games, will be flying to South Africa on Saturday.
BBC Three controller Zai Bennett said the channel is "committed" to showing "bold, thought-provoking programmes".
The production company assigned, Mentorn Media, will start filming shortly after Edwards' arrival, while the programme is scheduled to go out in March.
The independent production company has previously made specials for the channel, including a recent documentary called Superstorm Sandy: Caught on Camera.
The programme about the devastating tropical storm took about three weeks from the commissioning stage to delivery.
Bennett said "BBC Three is never afraid to tackle current affairs" for its aged 16-34 audience.
"Together with presenter Rick Edwards, I'm sure they will deliver a documentary that will bring a new angle to this ever developing news story."