Damien Hirst skull gets Comic Relief red nose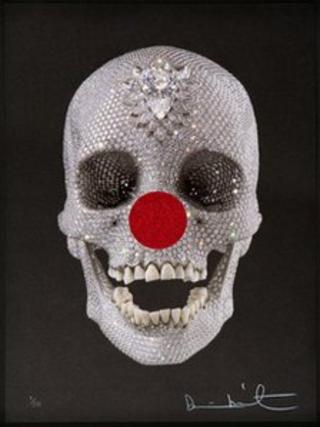 Damien Hirst has created and signed 50 limited edition prints featuring his diamond-encrusted skull wearing a red nose, to raise funds for Comic Relief.
The portrait-sized prints will go on sale for £2,500 with all proceeds going to Comic Relief.
"I thought it would be funny," Hirst told BBC Radio 4's Front Row. "You can't take yourself seriously."
He added: "Anything done well is art - and when you get great comedy, that's art as well."
"I thought years ago about trying to do an exhibition of art that made you laugh," he told Radio 4's John Wilson.
"There are some really great funny artworks, though I don't make many of them."
Poo sculpture
"I had an idea once, a long time ago, to do a huge sculpture that was going to be a human poo - seven foot tall and forty foot long.
"I was going to make it the most perfect human poo you could make, in bronze - and then put it outside somewhere. And I was going to call it Untitled (No. 2).
"I made a model - I just never made it," he said, adding that he may still revive the idea.
"I think it's a great piece of art," he added. "It forces people to look at things that maybe they are not that keen on looking at, but it's healthy and it means you're well - and it's a beautiful object."
Hirst, who has collaborated with Comic Relief on two previous occasions, called the charity - which supports impoverished communities in the UK and Africa - "epic and far-reaching".
One of the lithographic prints - entitled For The Love of Comic Relief - will go on display at London's Tate Modern gallery this weekend.
The name is a play on Hirst's original diamond skull artwork, which bears the name For the Love of God.
The £50m platinum cast of a 35-year-old 18th Century European man covered in 8,601 jewels went on display in the Tate Modern's Turbine Hall in 2012, as part of the London 2012 Festival.
The diamond-encrusted artwork is typically kept in a high-security vault when not on display, though the artist told Wilson he had been discussing the possibility of exhibiting it in both Qatar and Oslo.
"If it's a nice venue and we can get the insurance sorted out, I like it to be out rather than in a vault," he said.
Red Nose Day takes place on Friday 15 March.
John Wilson's full interview with Damien Hirst can be heard on BBC Radio 4's Front Row on Friday 22 February, at 19:15hrs.