Oscars 2013: Animators fly the flag for Britain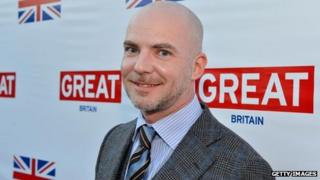 British stars haven't fared so well in the Oscar acting categories this year, but animators from the UK are flying the flag in LA.
Chris Butler is one of the directors of ParaNorman, nominated for best animated feature and was among those at the Great British Film Reception at the British Consul General's residence on Friday.
Butler was hedging his bets regarding his Oscar chances come Sunday.
"I'm always hopeful," he told the BBC.
"But I'd like to be pragmatic about it… you don't make these things for awards, no-one is in animation because it's fun or exciting. That's not what animation is about."
But he also appreciates the recent recognition.
"What the awards season represents is people acknowledging what you did, people understanding what you were trying to say and liking it. I think that more than anything is what makes it worthwhile."
'Terrifying promotion'
A first-time Oscar nominee for the US-produced film, he's not averse the to the perks of the awards merry-go-round either.
"I'm getting strangely used to it which I don't think is a good thing because next week, nobody is going to be opening car doors for me," he joked.
"I won't be wearing a suit anymore and I love wearing a suit - I'm in animation, we're in dark rooms all day in sweaty T-shirts."
Butler said at first, he found "this whole process [of promotion] more terrifying than making a movie".
Having wanted to make animated features "since I was three or four", Butler is delighted to be up against Tim Burton's Frankenweenie for the coveted golden statuette.
"The turning point for me was when I heard Tim Burton was making Corpse Bride in London and the opportunity to work with him, I just had to do it," he said.
"That is one of the best parts of this - I was such a fan of his and it was such an achievement for me back then to work on one of his movies and now I'm nominated alongside him."
Too British?
But Butler isn't the only Brit gunning for best animated feature at this year's Academy Awards.
The Great British Film Reception was held at the British Consul General's residence and hosted by British Consul General Dame Barbara Hay, the British Film Commission and Visit Britain.
Among the attendees was Aardman's Peter Lord, who is a contender with his film Pirates! Band of Misfits.
He told the BBC he's not sure if his film may be too British to appeal to Academy voters.
"It's really hard to say… I'm aware that the Pirates is a very British film with very British sensibilities and sense of humour and I just don't know how widely that will appeal."
Like his fellow British nominee, Lord has a refreshing love of the red carpet.
"You've got the security people hustling you along but you want to enjoy the red carpet, it's such fun. Of all the things, it's almost the best bit - the noise, the roaring of the crowd and journalists, that's wonderful."
He also has another handy tip. "The trick is to position yourself behind someone very glamorous having their photo taken, at least you get in the papers that way."
He admits to having sneaked in behind Julia Roberts before.
On a more serious note, Lord paid tribute to Roobarb animator Bob Godfrey, who died earlier this week.
"It was very sad to hear. He's a semi-legendary figure, a very successful animator."
Lord described him as "very English, a troublemaker, bolshie, awkward, opinionated, political, all kinds of good things like that".
"He really influenced me and a lot of people from my generation. God bless him."