Oscars 2013: In quotes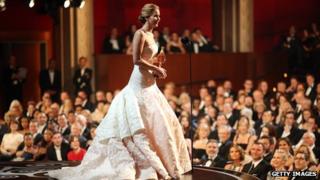 Hollywood has honoured its finest film-makers at the Academy Awards. Here are a selection of the best acceptance speeches and quotes from the red carpet and backstage.
Host Seth McFarlane
"I can't believe I'm here. It's an honour that everyone else said 'no'."
On Argo, the host quipped: "The story was so top secret that the film's director is unknown to the Academy. Ben, they know they screwed up.
"It's going to be a big night because, as we all know, winning an Oscar secures a long winning career. Look at Jean Dujardin who won an Oscar for best actor last year and look at him now, he's everywhere!"
"Whether [Jennifer Lawrence] wins or loses, it's just an honour Meryl Streep wasn't nominated."
William Shatner
Appearing on a video screen having "travelled back in time", Shatner warned MacFarlane: "Your jokes are tasteless and inappropriate, and everyone ends up hating you."
Ben Affleck
In his guise as producer, Affleck accepted the best picture awards for Argo. He used the speech to look back to 1998, when he and Matt Damon won the best screenplay award for Good Will Hunting, and to his rocky Hollywood career in the intervening years.
"I was here 15 years ago and I had no idea what I was doing, stood out here in front of you all, I was just a kid. I never thought I'd be back.
"So many people extended themselves to me and I want to thank them. You can't hold grudges, it's hard, but you can't hold grudges.
"It doesn't matter how you get knocked down in life. All that matters is that you get up," he said, choking back tears.
Daniel Day-Lewis
The actor made history by becoming the first person to win best actor three times. On stage, he said: "I really don't know how any of this has happened. I am so grateful to the Academy for this beautiful honour."
Backstage, he added: "I need to have a lie-down for a couple of years after this one"
Day-Lewis received his award from another triple-winner, Meryl Streep - who picked up best actress for The Iron Lady in 2012.
"Three years ago, before we decided to do a straight swap, I had actually been committed to play Margaret Thatcher and Meryl was Steven's first choice for Lincoln," he joked.
"I'd like to see that version."
Christoph Waltz
Austrian actor Waltz scored his second best supporting actor for Django Unchained. He said: "My unlimited gratitude goes to Dr King Schulz - his creator and the creator of his awe-inspiring world, Quentin Tarantino. We participated in a heroes' journey. You scaled the mountain because you're not afraid of it."
Backstage he added: "Quentin writes poetry, and I like poetry."
Jennifer Lawrence
Lawrence took a tumble as she walked on stage to collect her best actress award, but received a standing ovation nonetheless.
"This is nuts," she smiled. "I know you're only standing up because you feel bad that I fell."
Later, she joked with reporters: "They wax the stairs", although she admitted "a bad word that starts with 'f'" had run through her mind.
George Clooney
Clooney won an Oscar as producer of Argo - but on the red carpet, he seemed nonchalant about the ceremony, saying: "Win or lose, I'll be drinking - that's the good news."
Anne Hathaway
Hathaway, who was clutching her best supporting actress award, ran into Kristen Stewart backstage, and was surprised to see her on crutches.
"Oh no!" Hathaway said.
"I know, I'm an idiot," Stewart replied. "But congratulations!"
"Please tell me you're going on stage with those," Hathaway said, pointing to the crutches.
"Nope. I'm gonna hobble," Stewart said.
"Well, break a leg," Hathaway said.
"Oops."
Ang Lee thanked the "movie god" for his win in the best director category
Winning his second Oscar for best director (after Brokeback Mountain in 2006), Ang Lee looked to the sky and thanked the "movie god".
"I could not make this movie without the help of Taiwan," he added. "We shot there and I want to thank everybody for their help there. Thank you Academy."
Quentin Tarantino
The director gave an effusive speech as he won best original screenplay for Django Unchained.
"If people know my movies 50 years from now, it'll be for the characters I created. I only get one chance to get it right and cast the right people. Boy, did I do it this time!
"One last thing: I'd like to say it's such an honour to get it this year. This is the writer's year, I love the competition. Peace out."
Karen Baker Landers
Sound editor Karen Baker Landers won for Skyfall. She said backstage: "It's an honour to represent women in this industry and hang with the big boys."
Lisa Westcott and Julie Dartnell
The British duo won best costume and make-up for Les Miserables.
"We're ex-BBC, hair and make up is not an unusual mix, at the BBC we used to do both," said Dartnell backstage.
On Anne Hathaway's drastic haircut in the film, Dartnell added: "She was absolutely clear she wanted to do it. We could easily have done it with a wig, but she really wanted to do it for real. It was a very emotional moment doing it on for real on the set."
Asked if they would celebrate with tea or champagne, the pair added: "It's got to be champagne".
Simon Hayes
The sound man picked up an Oscar for sound mixing, recognising his achievement in capturing the actors' live vocals on the set of Les Miserables.
He paid tribute to director Tom Hooper, who made the decision not to allow the stars to lip-sync, saying: "We had to hold hands and jump off this cliff together."