MacFarlane aims high but hits mediocre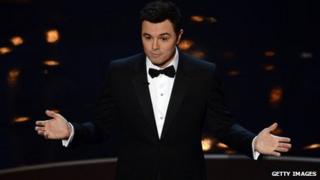 Early on in the 2013 Oscars ceremony, host Seth MacFarlane was interrupted by William Shatner, playing a "from the future" Captain Kirk - who showed him a succession of supposed headlines pulled from show "reviews" taken from the next day's papers, describing him as the "worst host ever."
While the standard of some of his material saved him from that fate, the Family Guy creator was still less than shiningly successful in his debut as host.
Much was expected after the superb job he and Emma Stone had done during the 10 minutes of the Oscar nominations in January, when he had sparkled - and at what was for him five o'clock in the morning.
And so now was the time for him to bring his brand of sharp satire and pop culture references to the evening itself.
One early line about Django Unchained - "The story of a man fighting to get back his woman, who's been subjected to unthinkable violence - or as Chris Brown and Rihanna call it, a date movie" - indicated that he was going to deliver exactly that.
He added that Django's screenplay, with its multiple uses of the n-word, was "based on Mel Gibson's voicemails." When that too drew intakes of breath, he pulled an innocent-looking face and asked; "so you're on his side?"
But at that point, Captain Kirk dropped in from the 23rd Century "to stop you from destroying the Academy Awards." And in a bizarre case of life imitating art, once Kirk disappeared, the nature of MacFarlane's material did indeed change - from edgy to hugely broad-brush, on a number of occasions laced with overtones of misogyny.
Awkward silence
Every so often - such as the Von Trapp family failing to make an appearance, followed by a Nazi officer running in and saying, "they're gone!" - MacFarlane's unique humour did shine through, and his pre-recorded sock puppet recreation of Flight was the comedic highlight of the whole show.
But introducing the Chicago cast because they night was "not gay enough", or treating the audience to a song and dance routine about the films in which actresses have exposed their breasts, led to a lot of awkward silence.
And following a couple of real clangers - one about the Kardashians' facial hair, and one on Zero Dark Thirty being about "a woman's innate ability to never, ever let anything go" - a frowning Ben Affleck seemed to challenge MacFarlane from the mic, saying "I actually thought the show had been going pretty well. Maybe you can turn it around."
It recalled the uncomfortable moment in 2005 when Chris Rock - again, someone hired to bring an edge to proceedings - was upbraided by Sean Penn for making fun of Jude Law. Rock, incidentally, has not been invited to host since.
But it was not a great ceremony generally - things were not helped by the use of the Jaws theme to cut off award recipient's speeches. The inference seemed to be they were less important than the next gag poking fun at bulimic actresses.
Things were saved by the musical theme of the evening, with a succession of performers - Catherine Zeta Jones; Jennifer Hudson; the entire cast of Les Miserables - on absolutely belting form.
There were also two great Bond themes, with Shirley Bassey doing Goldfinger and Adele singing Skyfall live for the first time following her return to the limelight after pregnancy.
But it would turn out the best gag of the show was from Daniel Day-Lewis, collecting his Oscar from Meryl Streep. "Three years ago - before we did a straight swap - I had actually agreed to play Margaret Thatcher," he said, securing a bigger laugh than any of MacFarlane's lines.
"I'll settle for mediocre," MacFarlane had told Shatner during their skit. He might just have to.