Susan Boyle to star in film debut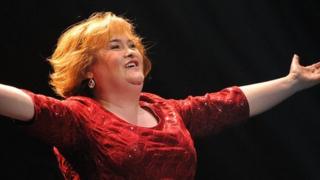 Scottish singer Susan Boyle is to make her big screen debut this Christmas.
She will appear opposite Les Miserables star Samantha Barks in period film The Christmas Candle, producers said.
Based on a novella by US preacher and author Max Lucado, the film is set in an 1890s English village where blessed candles answer people's prayers.
Boyle, who is currently filming on location, said: "It's very cold... I'm wearing long johns under my bustle."
"Everyone on set is a delight to work with and it's a fantastic experience to be part of the team," she added.
It is not yet known what role Boyle will play in the film.
It also stars The Hobbit and former Doctor Who actor Sylvester McCoy and Bafta-nominated star John Hannah.
Barks, an Isle of Man local, has just returned to the UK after performing One Day More from Les Miserables at the Oscars last weekend.
The film, in which she starred as Eponine, won three Academy Awards including best supporting actress for Anne Hathaway.
"I had an hour to unpack and repack and get to set," she said.
Boyle became an overnight international sensation in 2009 after performing the Les Mis song I Dreamed A Dream on ITV's Britain's Got Talent.
The video of her performance has been viewed hundreds of millions of times on YouTube.
Her life story from unknown Scot to multi-million-selling recording artist has itself been made into a musical, which opened in the UK last March.