Bush remembers Van Cliburn at memorial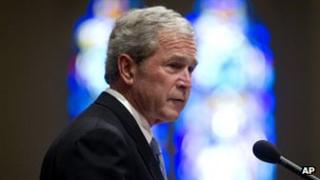 Former US President George W Bush was among some 1,400 people paying tribute to classical pianist Van Cliburn at his memorial service in Texas.
The musician died at his home in Fort Worth last week after suffering with bone cancer. He was 78.
Mr Bush, who spoke at the ceremony, said Cliburn "spread peace and love through his music".
A statement from President Obama, who awarded Cliburn the National Medal of Arts in 2010, was also read out.
"I am confident that the enduring beauty of his art will sustain his legendary status for years to come," he said.
During his life, Cliburn performed for every US president since Harry Truman, the 33rd President of the United States, who was in office from 1945-1953.
Mr Bush, who presented the pianist with the Presidential Medal of Freedom in 2003 - the highest US civilian honour - described Cliburn as a "gracious" and "humble" man who was "beloved, even by the enemy".
"Members of the presidents' club could have taken a lesson from him in diplomacy," he said.
During the Cold War, relations between the US and Soviet Union were eased when Cliburn won the first International Tchaikovsky Competition in Moscow in 1958, at the age of 23.
A Time magazine cover proclaimed him "The Texan Who Conquered Russia."
Russian President Vladimir Putin sent a statement, which read: "Over the course of many years, during the most difficult historical times, the art of Van Cliburn brought together people from different countries, different continents and united them.
"We shall always remember Van Cliburn as a true and sincere friend of the Russian people."
The service also featured a performance by the Fort Worth Symphony Orchestra, accompanied by a choir.
Praised for introducing Tchaikovsky and Rachmaninoff to a younger generation when he became well-known, Cliburn also helped nurture the careers of younger musicians through the Van Cliburn International Music Competition, which was set up in 1962 and occurs once every four years.
Born Harvey Lavan Cliburn, Jr in 1934 in Shreveport, Louisiana, Cliburn began learning to play the piano at the age of three, taking lessons from his mother.
He won his first Texas competition when he was 12 years-old and after attending the Juilliard School in New York, went on to win several more.
By the age of 20, he had played with the New York Philharmonic and the symphonies of most major cities.
He was diagnosed with advanced cancer in August 2012.
Friends said the pianist remained humble and gracious despite five decades of extreme success.