French indie rockers Phoenix release Bankrupt! album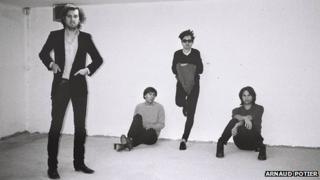 French indie rockers Phoenix are about to release their fifth studio album Bankrupt!, the follow up to the Grammy-award winning 2009 album Wolfgang Amadeus Phoenix.
They exude Gallic cool, have an army of hipster fans, mates such as Daft Punk and Air and some truly great tunes but it was not until their fourth album that French band Phoenix managed to break out of the indie sidelines into the US mainstream.
The record Wolfgang Amadeus Phoenix sold over a million copies worldwide, and was certified gold in the US and Platinum in Canada, Australia and France.
It went on to be named best alternative album at the Grammys in 2010, beating competition from the likes of David Byrne and Brian Eno, Depeche Mode and the Yeah Yeah Yeahs.
It made Phoenix the first, and so far only, French band to achieve the honour in its 23-year history.
The track 1901 was also featured during a Super Bowl montage, an effective stamp of approval in the US - seen by 111 million viewers, the most-watched programme of any kind on American television.
Three years on, singer Thomas Mars still describes the Grammy win as "very surreal".
"It's the only award we've ever won, we never won one before that and it's the biggest one so we were very happy.
"It was more like a joke than anything else really, but a big sloppy kiss is a good way to put it."
Perils of success
Is it slightly odd then, just a few years later, to be giving an album as stark a name as Bankrupt!?
And to what kind of bankruptcy is the band referring? Moral? Creative? Financial?
"It's definitely not a statement," insists Mars. "It's more the Italian-German graphic designer that's in us, that likes the idea of the shape of the word and the font but at the same time there is a link to the theme of the album."
It was the very nature of the band's sudden success in the US, Mars explains, which helped the band define in which direction they wanted to take the new album.
"Toward the end of the last record's touring we were talking about success more than music," he says. "And I think its almost like a survival instinct. Success can be a weight on you when it comes to creativity and we were trying to get rid of it and start from scratch.
"So that's the sort of bankruptcy we were looking for."
Perhaps to hasten the process, Phoenix gave themselves very little time off following album number four.
Though Mars did have a second daughter with filmmaker Sofia Coppola, whom he met while contributing to the soundtrack for her film The Virgin Suicides. The couple married in Italy in 2011.
"We don't know how to take time off," says Mars. "We worked in the studio for two years and you sort of lose a sense of time really. It's groundhog day every day and you want to go in that direction and lose yourself."
He explains: "You try to bypass your brain because it goes to familiar places and you want to be surprised and come up with new sounds.
"So you just keep trying things, you want your body to be exhausted, you're looking for something bigger than what you think will come out."
Complete work
The first single Entertainment, which opens with a very David Bowie China Girl-esque hook, is also the first track listed on the album, which suggests Phoenix are keen to have fans download the full album rather than cherrypick one song at a time.
But with UK album sales in decline, seeing an overall drop of 12% over 2012 despite a 15% boost in digital sales, is Mars worried?
"I'm happy that they will hear it any way they want, he says. "We want to make the best record we can but once the record is done, there's no control."
However, he admits the band "still think in vinyl terms like side-a and side-b, with an intermission in the middle."
He adds "We still think of the album as something that's going to last as a whole piece, there's a story to be told over the whole album.
While Bowie is a clear influence on Mars, he says the track's initial inspiration came from further afield, Ethiopian music, in particular, the French-released Ethiopique compilation.
"But somehow it just started sounding Asian," he adds.
Another track, Drakkar Noir, could well be the first song named after a best-selling men's aftershave, if you discount The Vaccines' Aftershave Ocean.
"Well, there's Nirvana's Smells Like Teen Spirit (based on a US deodorant)," jokes Mars. "But perfume is a very interesting subject because Drakker Noir is just a cheap duty free perfume.
"But perfume should be precious and one of the ingredients is taken from the intestines of a whale (... a very, very valuable substance called ambergris) - it's really far out and the grossest thing you can think of."
The title track's epic seven-minute length, most of which is an instrumental, is - as Mars puts it - "a reward for the listener for listening right through the album".
In typically French fashion, he casually drops in jazz artist John Coltrane's 1965 album A Love Supreme as an influence.
The album cover is markedly simple, a peach and flower design which belies some deeper thought beneath.
"It's the idea of a still life that we were attracted by," says Mars. "We were naive enough that we thought we were making a masterpiece, that was the ambition."
"The peach comes from a totally random illustrator, a guy from California who does illustrations for food labels, marmalades and stuff like that.
"Also, peaches are very popular in Poland for some reason. That's what I found out."
Bankrupt! is due out on 22 April.