Director Steven Soderbergh on 'last film' Side Effects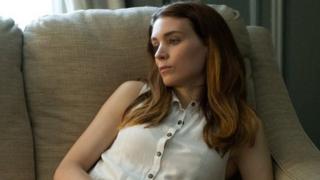 Oscar-winning director Steven Soderbergh's latest release Side Effects, starring Rooney Mara, Jude Law and Catherine Zeta-Jones, is he says, his last feature film - at least certainly for the foreseeable future.
Soderbergh, the youngest winner of the Palme D'Or at Cannes for Sex, Lies and Videotape, and the maker of other hits like Traffic, Oceans Eleven, Out of Sight and most recently, Magic Mike, says that after releasing Side Effects, a thriller set around the pharmaceutical industry, and an HBO biopic about the musician Liberace, that he intends to retire.
"It's a purely personal decision," the 50-year-old says.
"Although having said that, it is getting harder to make a film in Hollywood. There's not as much room to play with anymore if you're a film-maker. But no, there is such a thing as burnout.
"For the last 15 years I have either been making a movie, or preparing to make another one. I'm always on an aeroplane. I've made five films in the last two years. It's time to take time out.
"But I've always intended to do this. When I made Che five years ago, I said: 'I want to be done when I am 50'.
"I haven't meant to make a big deal of this either by making a public announcement, it's just that I work with the same technical crew on every movie I make and I had to give them some warning."
However, Soderbergh, who first came to prominence in 1989 with the independent break-out hit, Sex Lies and Videotape, insists that he isn't planning a life of leisure.
"I want to take myself in a new creative direction and go with what engages me," he says.
"I don't particularly want to elaborate, but I know in order to do it I have to make a full stop.
"It's something you can't do when you're making a movie, you have to make the space for it to happen. Perhaps, after an extended break, I will make another film, I just don't know at this stage."
Outspoken
Soderbergh was the first film-maker in 62 years to get a twin Oscar nomination in the best director category for Erin Brockovich and Traffic in 2001 - which he won for Traffic.
He has also completed projects like the four-and-a-half hour long epic, Che, starring Benicio Del Toro, a biopic about freedom fighter Che Guevara.
Soderbergh has a reputation for speaking his mind and says he startled journalists when he said of his 1995 film, Underneath: "I'm not a fan."
He does, however, say he is a fan of his final project, Side Effects, which stars Rooney Mara as Emily, a young woman suffering from depression.
Jude Law and Catherine Zeta-Jones play psychiatrists who have been prescribing Emily prescription drugs to treat her condition. Those drugs seem to lead to increasingly dangerous behaviour.
It was written by Soderbergh's long-term collaborator, Scott Z Burns, and shot, the director says, in 35 days.
"I loved the idea of this film, because Scott had seemingly taken a social issue and used it as a Trojan horse to hide a thriller.
"This was the kind of movie that used to get made a lot. I don't know why they're not now, perhaps they got priced out of existence. But in the 80s, you'd get these fun thrillers like Fatal Attraction.
"I was excited about doing an updated version of that, especially as it's getting harder and harder to surprise audiences. They are so sophisticated these days that it's almost impossible to put a twist in a plot that no one is going to spot, but I think we've succeeded with this.
"I just liked the idea of making a thriller in the twilight of my career, so to speak. I didn't want my last films to be heavy and I think I've succeeded with movies like this, Haywire and Magic Mike, even with Contagion, which is about a killer disease spreading across the planet.
"I loved the thought of audiences looking nervously at each other as the lights went up in the cinema."
'Guilty pleasure'
Soderbergh stresses that the pharmaceutical industry is not the heart of the film but he allows that the effects of prescription drugs are a talking point.
"There is a proliferation of them available these days, and the TV advertising suggests they can cure you very easily," he says.
"However, I wasn't looking to make a social commentary on them.
"But it's funny that in 1989, I started my career with Sex, Lies and Videotape.
"Andie McDowell was playing a character who was seeing a psychiatrist, and back in 1989, the idea that she would be prescribed medication wouldn't occur to anyone. Now the idea that she wouldn't be medicated wouldn't occur to anyone.
"There's been a pretty significant shift over the last 20 years."
Critical reaction to Side Effects has been mainly positive, although The Independent calls it a "wildly over-determined Freudian thriller… It is enjoyable in a guilty pleasure kind of way".
Time magazine says: "It demands a three-word review. Just see it."
Fans of the director will hope his retirement plan follows those of Hollywood stars Frank Sinatra and Barbara Streisand, both of whom returned to the spotlight within a few years of announcing their departure.
Side Effects is released in the UK on 8 March, 2013