James McAvoy admits Macbeth error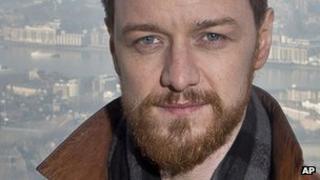 Scottish actor James McAvoy has admitted stumbling over his lines during his West End performance of Macbeth on Monday night.
The 33-year-old, who plays the title role at Trafalgar Studios, told the Press Association he struggled with Shakespeare's verse.
"I realised that I said the same line twice and I went, 'Oh dear this is a bad moment for me'," he said.
However he said he thought the audience "didn't quite notice".
"Some of them will have, but I don't think anybody else noticed and then I got it back on track and it was fine," he added.
The actor said despite the slip up, it was the first time he had forgotten his lines in the three-and-a-half weeks since the play had been running.
The X-Men star also revealed he found the Shakespearean role challenging, saying it was more physically demanding than any action movie he had ever worked on.
"It's more physically dynamic than anything. We've got cuts and bruises all over and we are down at the physio a couple of times a week," he said.
"We're like an army. We're like a walking, fighting army that are struggling to get through at the moment."
The show, directed by Jamie Lloyd, is running at Trafalgar Studios until 27 April.
McAvoy will also be seen on the big screen in the forthcoming films Welcome to the Punch, the adaptation of Irvine Welsh's novel, Filth, and Danny Boyle's latest film, Trance.