Michael Jackson AEG claim to go to trial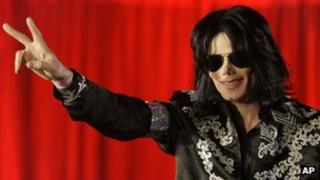 A US judge has ruled a legal claim by Michael Jackson's mother and children against concert promoter AEG Live over the singer's death can go to trial.
Jackson's family claim AEG negligently hired and supervised physician Dr Conrad Murray, who was convicted of involuntary manslaughter last November.
They also claim the company pushed Dr Murray into disregarding medical warnings in order to ready the singer for 50 comeback concerts in London.
The trial is due to start on 2 April.
It will centre on AEG's responsibility of Dr Murray, who was sentenced up to four years in prison for prescribing and administering the drug that killed Jackson. The singer died on 25 June 2009, weeks before his first show.
AEG claim Dr Murray was not under its supervision and was working directly for Jackson, who had developed an addiction to strong pain medicine.
Katherine Jackson and the singer's eldest son Prince, 16, are likely to take the witness stand during the trial to refute the promoter's claim.
Court documents show the family's lawyers will refer to a supposed "smoking gun" email from the co-chief executive of AEG, which said: "We want to remind [Murray] that it is AEG, not MJ, who is paying his salary. We want to remind him what is expected of him."
The multi-billion dollar lawsuit argues the background check into Dr Murray was a botched job and overlooked his significant debts, which would have made him more likely to succumb to financial pressure.
However when tour director Kenny Ortega wrote an email to AEG asking for "professional guidance" in order to deal with Jackson's "weakened and troubled state", company president Randy Phillips replied saying: "This doctor is extremely successful (we check everyone out) and does not need this gig so he is totally unbiased and ethical."
In her ruling, LA County Court judge Yvette Palazuelos said from previous tour experiences with the Black and White singer, AEG employees would have been been aware that his "tour doctors" had given him controlled substances.
She said: "There is a triable issue of fact as to whether it was foreseeable that… a physician under strong financial pressure [might] compromise his Hippocratic oath and do what was known by AEG Live's executives to be an unfortunate practice in the entertainment industry."
Jackson's family are suing for financial compensation estimated at $8bn (£5.3bn) - the amount the singer would have earned from the shows had he not died - which is more than the value of AEG's entire company.
The Jacksons' lawyer Kevin Boyle told CNN: "The truth about what happened to Michael, which AEG has tried to keep hidden from the public since the day Michael died, is finally emerging.
"We look forward to the trial where the rest of the story will come to light."