Actor Sean Penn pays tribute to President Hugo Chavez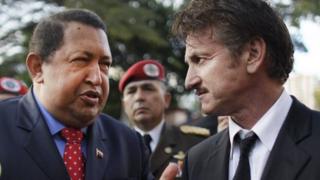 Academy award-winning actor Sean Penn and director Oliver Stone have paid tribute to Venezuela's President Hugo Chavez, who has died aged 58.
"I lost a friend I was blessed to have," said Penn, "and poor people around the world lost a champion".
Stone, whose documentary, South of the Border, celebrated Mr Chavez's 14-year leadership, praised him as a "hero".
"Hugo Chavez will live forever in history. My friend, rest finally in a peace long earned." he tweeted.
Penn, who first met the president in 2007, made a surprise appearance at a candlelight vigil in Bolivia last December during Mr Chavez's cancer surgery.
He said at the vigil, "He's one of the most important forces we've had on this planet".
Mr Chavez, who praised Penn's "great films", said in a televised speech: "He's one of the greatest opponents of the Iraq invasion."
Penn has spoken openly about his support for Mr Chavez, calling him a "model democrat" and said in 2010 that people who call him a dictator "should be jailed".
Stone became friends with Mr Chavez when he interviewed him for his political documentary about the media's perception of South America.
They walked the red carpet together at the film's premiere in 2009 at the Venice Film Festival.
Michael Moore, director of controversial documentaries Fahrenheit 9/11 and the Academy-award winning Bowling for Columbine, also met Mr Chavez in Venice that year.
"We spoke for over an hour. He said he was happy to finally meet someone Bush hated more than him." he said on twitter.
Mr Chavez's death was announced by the South American country's vice-president on Tuesday. His illness had prevented him from taking the oath of office after he was re-elected for a fourth term in October.
The flamboyant leader courted Hollywood throughout his presidency, building relationships with actors and musicians.
Musician Courtney Love says she was charmed by the president at a screening of his documentary in 2009.
"It was the third wink that sold me," she is reported to have said.
"He's a sexy dawg. He invited me to visit his country and I'd like to go. I'll rock Caracas!"
Actor Danny Glover, best known for his role opposite Mel Gibson in Lethal Weapon, was in Venezuela to celebrate Mr Chavez's victory in the 2012 election.
As a civil rights activist and frequent visitor to Venezuela, Glover had known Mr Chavez for over 8 years.
In 2007, Glover was given $18m (£1.2m) by the Venezuelan congress to make a film about a slave uprising in Haiti.