Great British Bake Off judge Paul Hollywood to appear on US version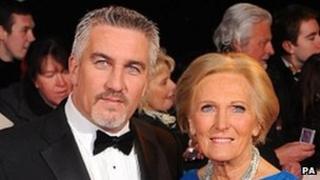 Paul Hollywood, one of the judges on BBC ratings success The Great British Bake Off, has revealed he will also be a judge on the US version of the show.
The baker said he was "looking forward" to adjudicating on The American Baking Competition and that he would continue to appear on its British counterpart.
Fellow judge Mary Berry will not appear alongside Hollywood on the new show.
Chef Marcela Valladolid will take her role in the programme, set to make its debut in May on the CBS network.
"The American version will be fascinating for me," Hollywood told fans via his Twitter feed. "Don't know how they'll cope with me mind."
Valladolid told her own fans she was "thrilled" to be a part of the show, which will be hosted by the US comedian and author Jeff Foxworthy.
Foxworthy is best known for hosting the quiz show Are You Smarter Than a 5th Grader in the US.
The son of a baker, Hollywood originally trained as a sculptor until his father persuaded him to change careers.
The Great British Bake Off, on which he has appeared since its 2010 inception, was named best features at last year's Bafta TV awards.