Actor Edward Petherbridge puts stroke story on stage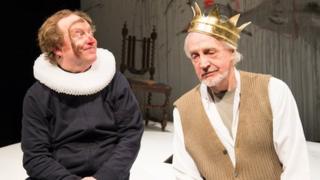 Veteran actor Edward Petherbridge was two days into rehearsals for King Lear when he suffered two strokes. He is now back on stage and has turned the experience into a new show about having the strokes and missing the chance to play Lear.
After more than five decades as one of Britain's most dependable and distinguished thespians, Edward Petherbridge had never had the chance to tackle an actor's biggest challenge - a lead role in one of Shakespeare's great tragedies.
So when an email came asking him to play King Lear in New Zealand in 2007, he had no hesitation. "I'd have gone to Timbuktu," he says.
Petherbridge earned his spurs as part of Laurence Olivier's National Theatre company in the 1960s and as a mainstay of the Royal Shakespeare Company from the '70s.
He formed The Actors' Company with Sir Ian McKellen, played Newman Noggs in Nicholas Nickleby in the West End and on Broadway, has won an Olivier Award and was the original Guildenstern in Tom Stoppard's Rosencrantz and Guildenstern Are Dead.
"Olivier himself handed me the script," the 76-year-old recalls.
"He said, 'Marvellous part. Marvellous play.' That's all he said. As I opened it on the bus home, I realised that my number had come up in a rather big way."
On television, Petherbridge is best known for playing the snooty sleuth Lord Peter Wimsey in the Dorothy L Sayers Mysteries.
"I played him on television in '86 with Harriet Walter, who I must now remember to call Dame," he says before adding, like a true Shakespearean delivering an aside: "I think my knighthood was lost in the post."
Indeed, it is hard not to accidentally address him as Sir Edward - he is the archetypal august actor who, despite hailing from the back streets of Bradford, has the poise and voice of the most venerable thesp.
Petherbridge has been in King Lear before, as the Fool in New York in 1974 and as the King of France to Olivier's monarch for a TV version in 1984.
So he went to New Zealand to prepare to play the lead role. But at the end of the second day, he suffered his first stroke.
"I had two, actually," he says. "One day after another.
"The second time I was paralysed on my right hand side, couldn't write, couldn't walk very well at all, couldn't see very well at all."
King Lear was off. But while part of his brain had malfunctioned, Petherbridge realised that it had still retained every word of the script. As he gradually made a recovery, he harboured hopes of returning to the role.
"When I began to be viable again, which took a bit, I began to think, 'I must do a one-man show of King Lear because nobody's going to risk me doing the same thing all over again,'" he says.
"So yes, I found I knew most of it pretty well as ever I had done. That hadn't been wiped. Nothing had been wiped actually. I've been very lucky.
"And the best thing you can do for an actor who's had a stroke is to throw him into a rehearsal room, because he suddenly finds he has to use parts that he didn't think he could use very well.
"It's like sending old people to exercise classes and dance classes - they get better, they get younger."
Petherbridge's first stage role after the stroke came in the West End production of musical The Fantasticks in 2010. Although the run was short-lived, he struck up a double-act with fellow actor Paul Hunter.
"I thought we could do a two-man Lear, but Paul had a better idea - a show about somebody not doing Lear."
That was the origin of their new show, which borrows its title, My Perfect Mind, from a line from King Lear.
It is Petherbridge's story told in an absurd, inventive and affectionate way. The actor describes it as taking "bits of my life and shaking them up in a kind of kaleidoscope", or like "attending a seminar on King Lear under the influence of LSD".
Hunter plays Petherbridge's mother, doctor, director and driver as the pair hop around in time and space on a slanted stage, which makes everything feel rather disorientated.
As Petherbridge's personal story unfolds in a disjointed but touching and very funny fashion, the story of King Lear resurfaces from time to time and plays out in parallel in the background.
Petherbridge says he was only able to put his own life on stage because it had been given a theatrical treatment. "It's not documentary," he says.
"It's entirely playful, irreverent, but I hope, not to sound too pretentious, life-loving, I suppose."
Compared to playing King Lear for real, though, it is, he admits, "a kind of booby prize".
"I must be honest about that. But it's the most wonderful booby prize because I get to play my nine-year-old self in it, I get to meet my mother and brother in it, and I get to do a piece of Lear.
"I'm not thinking about whether the RSC or the National or Scunthorpe Rep are going to ask me to do Lear or not."
He lowers his voice and cannot resist another aside: "I will be as soon as this is over."
My Perfect Mind, made by the Told By An Idiot theatre company, is at Liverpool's Unity Theatre until 9 March before touring to the Salisbury Playhouse and the Young Vic in London.