Sundance London film festival announces 2013 line-up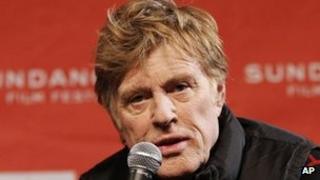 Robert Redford, founder of the Sundance Film Festival in Park City, Utah, will return to London's O2 in April for the second edition of its UK spin-off.
The Hollywood star will preside over a line-up that includes a comedy about voice-over artists, a documentary about killer whales and the directorial debut of forthright Canadian singer Peaches.
Peaches will also perform at the four-day event, a mix of film and music.
But the line-up omits some of the Utah festival's more star-studded titles.
They include biopics of Apple founder Steve Jobs and porn star Linda Lovelace, starring Ashton Kutcher and Amanda Seyfried respectively, which had their premiere at Sundance in January.
Also absent from the schedule is Kill Your Darlings, in which Harry Potter star Daniel Radcliffe dons glasses once again to play Beat poet Allen Ginsberg.
According to organisers, though, next month's programme will still be "representative of the quality we had in Park City".
"Our philosophy is to give a representation of not just the programme we did in Sundance Utah, but also a representation of what is happening in the independent film scene in America," said Sundance Festival director John Cooper.
"We have so many to choose from, so we look for how they play with audiences as well as what sort of buzz they create," added Trevor Groth, the event's director of programming.
Blackfish, about the consequences of keeping killer whales in captivity, is among the documentaries that will be screened at the O2's Cineworld cinema multiplex between 25 and 28 April.
Others include God Loves Uganda, about American religious leaders and their East African counterparts, and Running From Crazy, in which the actress Mariel Hemingway - granddaughter of author Ernest - explores her family's history of mental illness.
In a World... - the story of a vocal coach trying to carve a career in movie trailer voice-overs - is among the comedies to feature on the London schedule.
"One of the stand-out elements of Park City is the number of terrific comedies at the festival," Groth told the BBC News website.
"We definitely wanted to bring that element to Sundance London, as you really do want a range of emotions for people to experience."
In a statement, Robert Redford said: "We would hope for Sundance London to be another Sundance experience - lively, culturally relevant and fun. We look forward to engaging with audiences as we discover new voices, new points of view and new perspectives."
This year's line-up will also include a number of British features and shorts - selected "to celebrate the UK films we premiered at Park City and help launch them on their home turf".
Among them is The Look of Love, a biographical portrait starring Steve Coogan as the Soho entrepreneur and adult magazine publisher Paul Raymond.
Directed by the prolific Michael Winterbottom, it had its first UK screening in February at the Glasgow Film Festival.