James Franco to make Broadway debut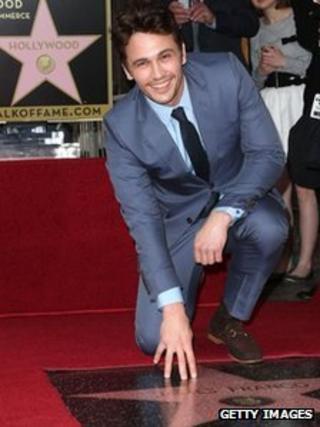 Actor James Franco, star of Sam Raimi's Wizard of Oz prequel, is to make his Broadway debut in the John Steinbeck classic Of Mice and Men.
The Oscar-nominated star of 127 Hours will play George in the tragic tale of two migrant workers during the Great Depression. Lennie has yet to be cast.
The play was last seen on Broadway in 1974, with James Earl Jones and Kevin Conway playing the two friends.
This week also saw Franco, 34, receive a star on the Hollywood Walk of Fame.
"It's something I really didn't even expect," said Franco, who starred in the Sam Raimi Spider-Man franchise.
"You know when I got to LA, I'd come here and you'd see the stars and it just seemed like it was something that was just part of the city and you'd never crack that.
"It's just part of Hollywood history and it's still baffling that my name will be there. So thank you - it's a huge honour that I really can't even comprehend right now."
He was joined at the ceremony by actor Seth Rogen and director Raimi, with whom he is working once again in Oz the Great and Powerful.
Franco, whose film credits include Milk and Pineapple Express, was expected to make his Broadway debut two years ago, in 2011, alongside Nicole Kidman in Tennessee Williams' Sweet Bird of Youth, but the production was abandoned.
He plays Hugh Hefner in the forthcoming film Lovelace, which premiered at the Sundance Film Festival in January.