Miranda Hart hurt falling in heels in Newcastle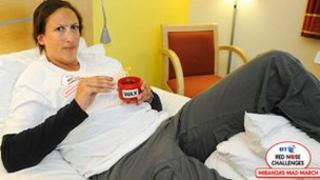 TV star Miranda Hart has suffered an ankle injury in Newcastle after stumbling in high heels on the eve of a charity challenge.
The 6ft 1in comedy actress, who is famous for falling over on screen, had to be taken to hospital after Sunday's fall as she arrived at a hotel.
The 40-year-old is due to do a series of challenges for charity in different cities including waxing armpits.
But she may now have to do Miranda's Mad March on crutches.
Hart is being assessed by an orthopaedic surgeon at Newcastle's Royal Victoria Infirmary.
But she is still hoping to get set a world record by waxing as many armpits as possible in three minutes, live on BBC1's the One Show later.
'Shaver not a waxer'
She said: "I should have known better, I was wearing a heel at the time, which is ridiculous as I'm 6ft 1in.
"To be honest, it was only an inch-and-a-half heel but that was enough to do it.
"I normally only wear ballet pumps. I was in my hotel room and I just went.
"So much for my Mad March - this is now definitely going to be Miranda's Mad Hop."
The star had to be given gas and air in hospital while medics manipulated her leg.
But she said she is determined to carry on through the pain and is helped by the fact she can do the first challenge while seated.
The Call The Midwife star was told about her first challenge live on Radio 2 on Monday morning by breakfast show host Chris Evans.
She said: "I'm a shaver not a waxer so this is completely new territory for me.
"Goodness knows where the wax is going to end up tonight - all I can say is, good luck Newcastle."
After Monday night's challenge, she will be taken to Manchester, Birmingham and Oxford, before finishing in London on Friday, which is Red Nose Day.
Money raised through her BT Red Nose Challenge will help Comic Relief's work in the UK and Africa.