Hilary Mantel up for third major book award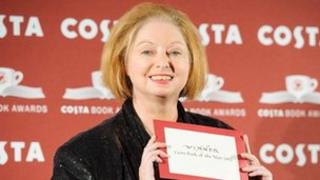 British author Hilary Mantel could be the first person to win all three UK major book prizes after being nominated for the Woman's Prize For Fiction.
Her historical novel, Bring Up The Bodies, is up against 19 other titles including six debuts and two previous winners in the long list.
The writer, who won the Booker Prize last year, also received the Costa Book of the Year for the novel in January.
The winner of the £30,000 prize will be announced on 5 June.
Mantel, whose novel is part of a trilogy about Henry VIII's adviser Thomas Cromwell, already holds the record for being the first woman and the first living British author to win the Man Booker Prize twice.
The Women's Prize for Fiction - formerly known as the Orange Prize - is now in its 18th year.
The award has been funded privately this year by donors including Cherie Blair, entrepreneur Martha Lane Fox and author Joanna Trollope after Orange ended their 17-year sponsorship deal.
The long list includes former actress Kitty Aldridge for her third novel, A Trick I Learned From Dead Men, while Ros Barber's The Marlowe Papers is the first novel written in verse to be recognised.
The youngest author to be nominated is 25-year-old Israeli Shani Boianjiu whose novel, The People Of Forever Are Not Afraid, is based on her national service in the Israeli Defence Force.
Also on the long list are previous winners Zadie Smith and Barbara Kingsolver for their novels NW and Flight Behaviour respectively.
If either of the writers win the prize, they would be the first person to do so twice.
Actress Miranda Richardson, chair of the judges, said it was a "daunting" task to reduce the list of submissions from over 140 to 20 books.
She said the list was "truly representative of that diversity of style, content and provenance" adding she did not "anticipate the job becoming easier at the next stage".
Debut US novelist Madeline Miller won the award last year for The Song of Achilles - a story of same-sex romance set in the Greek age of heroes.
Other previous winners of the prize, include Lionel Shriver for We Need to Talk about Kevin (2005), Marilynne Robinson for Home (2009) and Tea Obreht for The Tiger's Wife (2011).
The shortlist will be announced on 16 April with the winner announced at a ceremony at the Royal Festival Hall in London.