Oz prequel powers to top of UK box office chart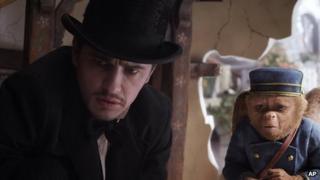 Disney's latest family film, Oz the Great and Powerful, is top at the UK box office after making £3.71 million in its opening weekend.
The Wizard of Oz prequel was streets ahead of Steven Soderbergh's Side Effects, which debuted with £905,000.
The Jude Law-starring thriller was boosted by three preview screenings, which earned it £4,619.
Last week's chart-topper, Hansel and Gretel: Witch Hunters, dropped down to sixth place.
The 3D fantasy, which reinvents the classic fairy-tale characters as adult bounty hunters, earned £508,000 in its second weekend in UK and Ireland cinemas.
Third place in the chart went to another Disney crowd pleaser, Wreck-It Ralph.
The 3D animation earned £745,000 in its fifth week on release - holding off competition from Jason Statham's crime thriller Parker, which debuted with a disappointing £567,000.
Horror film Mama fell two places to five with £526,000 in box office receipts. The Jessica Chastain-starring film has now made £4.5m after three weeks on release.
In seventh place, comedy drama The Guilt Trip starring Seth Rogen and Barbara Streisand, opened with a lacklustre £432,000 from 388 locations.
Robot and Frank, starring Frank Langella as an ageing jewel thief, was the only other new title in the Top 15.
The film, set in the near future, earned £106,000 from screenings at 73 locations,