Damien Lewis heads to Dibley for Comic Relief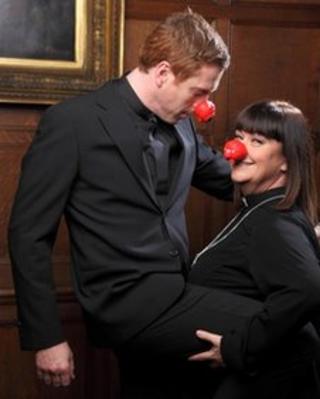 Reunited for the first time in seven years, the cast of The Vicar of Dibley return to television screens this week for a 10-minute Comic Relief special.
Homeland actor Damien Lewis also stars in Richard Curtis's new episode and said long-time fans of the BBC sitcom would "have a riot" watching it.
It will be aired during the Funny for Money programme on BBC One on 15 March.
Dibley star Dawn French said that since the characters' last outing the "amount of decay" had been "alarming".
"Viewers should watch this sketch because it's the first time we've been together for ages, so everyone can witness the rapid deterioration of us all," she went on.
The one-off reunion sees the Vicar and her parishioners head to London on a mission.
"I don't want to give too much away about the sketch, but the Vicar heads up the fight for equality in church law," said French.
Lewis said he was keen to be a part of Red Nose Day this year as he had not been available in the past.
"Some of my favourite actors are in the Vicar of Dibley and I grew up watching them on the TV," the actor went on.
"Filming this has been a bit like filming on stage. We've rehearsed it a bit like you would if you were doing theatre because we shot it so quickly. It's got a lovely atmosphere to it."
The Vicar of Dibley ran from 1994 to 2007 and featured several guest appearances from the likes of Kylie Minogue, Darcey Bussell, Sarah Ferguson and Johnny Depp.
"I doubt we're going to do any more of them," said cast member Roger Lloyd-Pack. "We haven't done one for seven years.
"For those people who like the Vicar of Dibley sketches, it's probably the last chance they'll get to see a new episode."
The popular BBC sitcom has won numerous accolades, including two International Emmys and three British Comedy Awards.
Earlier on Friday, French's Vicar will be delivering the Pause for Thought slot on Chris Evans's Radio 2 breakfast show.
French and her comedy sidekick Jennifer Saunders will also be popping up across the schedule on the network to celebrate Red Nose Day.
Michael McIntyre, Rob Brydon, Zoe Ball and Lenny Henry are among the presenters involved in the Funny For Money programme on Friday evening.