Stephen Hawking documentary to screen on Channel 4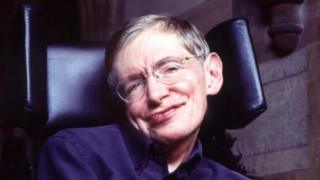 The first autobiographical documentary about Professor Stephen Hawking is to be screened on Channel 4 after its release in UK and Ireland cinemas.
Titled Hawking, the biopic is an "intimate" look at the theoretical physicist's life, narrated by the man himself.
It also includes interviews with astronaut Buzz Aldrin, Hawking's sister, ex-wife, carers and students.
The film had its world premiere at the South By South West Festival this week.
"It's a story that most of us have been aware of over the years, and so one kind of forgets how extraordinary it is," said David Glover, Channel 4's senior commissioning editor.
'Moving' story
"In this film he tells us the story of his life - making it the definitive film about Hawking. He does it in a rather understated, modest, British way - which makes it all the more moving.
"I think it's a film that people will still be watching a hundred years from now."
Hawking, 71, is one of the world's most famous scientists and the film follows his journey from an underachieving schoolboy to a multi-million pound selling author.
It will explain how he learned to adapt to life after being diagnosed with motor neurone disease and given two years to live when he married his first wife, Jane, in 1964.
Interviewees include Jane and Hawking's sister Mary, as well as colleagues including Sir Roger Penrose, actors Jim Carrey and Benedict Cumberbatch, who played Hawking in a 2004 TV drama, and Sir Richard Branson.
Commissioned by Channel 4, the film is a co-production between the UK broadcaster and US network PBS.
Hawking's book, A Brief History of Time - a layman's guide to cosmology - became an unlikely best-seller when it was first published in 1988, selling more than 10 million copies worldwide.
In recent years he has written and presented several science documentaries for the Discovery Channel and appeared as himself in US sitcom The Big Bang Theory and animations Futurama and The Simpsons.
His last book, Grand Design, was published in 2010.