Oz still proves great at UK and Ireland box office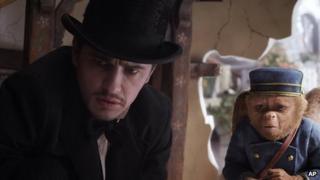 Disney film Oz the Great and Powerful has held the top spot in the UK box office for a second week in a row.
The Wizard of Oz prequel, starring James Franco and Mila Kunis, earned £2.6m from 539 locations.
In second place, psychological thriller Side Effects took £759,363 while Welcome to the Punch debuted in third with £460,250.
In a disappointing weekend, the top 15 films earned just £6.4m - down significantly from £9.2m last weekend.
After six weeks on release, Disney's other family film, Wreck-It Ralph fell one place to take the number four spot with £426,343 in box office receipts, while Jason Statham's crime thriller Parker continued its decline, earning just £308,335 in its second week in cinemas.
The three other new releases in this week's chart also failed to impress.
In sixth place, The Incredible Burt Wonderstone with Steve Carell took £305,936 from 286 locations, while action remake Red Dawn debuted in eighth position earning £255,448.
Steamy US thriller The Paperboy, starring Nicole Kidman and Matthew McConaughey, and based on the novel of the same name, earned £141,881 to take 13th place.
However, the film actually had the highest average takings per location out of all four new releases, with £1,730 at each of the 82 screens in which it was screened.
Welcome to the Punch, a tough crime drama starring James McAvoy and Mark Strong, debuted in third place - earning £1,244 at each location.
Elsewhere in the chart, in twelfth position the Oscar-winning film adaptation of the hit musical, Les Miserables has now earned a total of £40m after 10 weeks on release.