Jude Law joins Jane film shoot exodus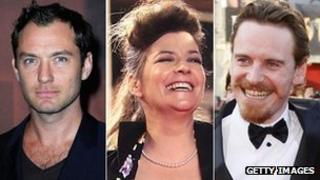 Jude Law has become the latest big name to quit troubled production Jane Got a Gun, which has already had its director and another star exit the project.
The film made headlines earlier this week when Scottish director Lynne Ramsay did not arrive on the Santa Fe set for the first day of shooting.
Ramsay was swiftly replaced by Warrior director Gavin O'Connor, but this did not stop Law also leaving the project.
Michael Fassbender was the first to pull out, citing scheduling conflicts.
The Hunger star's role was taken by Australian actor Joel Edgerton, who remains with the western alongside its leading lady Natalie Portman and Brazil's Rodrigo Santoro.
According to showbiz website Deadline, Law only signed on to the film in order to work with Ramsay and did not wish to remain following her exit.
That earlier departure drew an exasperated response from the film's producer Scott Steindorff, who said he was "shocked and disappointed" by Ramsay's no-show.
The We Need to Talk About Kevin director has made no comment about her involvement in the film or the reasons for her departure.
Jane Got a Gun tells of a woman, played by Portman, who turns to an ex-lover to help her defend her farm against her outlaw husband's former associates.