Death row tale wins children's prize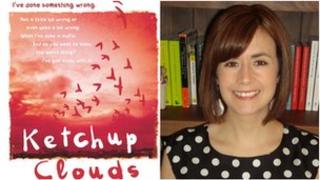 Ketchup Clouds, the story of a teenage girl who reveals a terrible secret through a series of letters written to a murderer on death row, has won the Waterstones Children's Book Prize.
Voted for by booksellers across the UK, the book prize aims to reward new and emerging talent in children's writing.
Waterstones's Melissa Cox called Annabel Pitcher's second novel "an unsettling yet fantastically fresh and brave take on the teen confessional".
"Pitcher is a genuine literary star."
Prizes were awarded in three separate categories: best picture book, best fiction for 5-12s and best book for teens, with Pitcher crowned both the teen category winner and the overall winner.
Pitcher, formerly a teacher, was shortlisted in the same category for her debut novel My Sister Lives on the Mantelpiece last year.
US author RJ Palacio's Wonder was named winner of the 5-12s category, for her tale Wonder, about a child with a facial deformity starting school for the first time.
Judges called it "thought-provoking read with timeless appeal".
Illustrator Rebecca Cobb won the picture book category for her story Lunchtime, about a little girl who doesn't want to eat her lunch.
"Full of originality, our shortlist was rich and exciting, but Rebecca Cobb's Lunchtime shone through, with its wonderfully expressive young girl and beautifully realised animals looming large on the pages," said Cox.
Each of the category winners receive £2,000, with Pitcher awarded an additional £3,000 as overall winner.