Argentinean illustrator Isol wins top book prize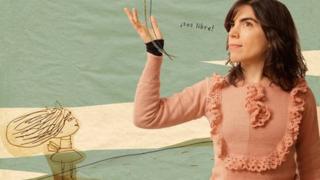 Argentinean illustrator and writer, Isol, has won the world's largest prize for children's literature, the Astrid Lindgren memorial award.
She beat Roald Dahl illustrator Quentin Blake and War Horse writer Michael Morpurgo to take home 5m Swedish kronor (£500,000).
The annual award, named after the Swedish creator of Pippi Longstocking, had 207 nominees from 67 countries.
The judges said Isol pushed "the boundaries of the picture book medium".
"Taking children's clear view of the world as her starting point", they added, "her pictures vibrate with energy and explosive emotions".
She was chosen by a jury of 12 international children's literature experts to join former winners Philip Pullman, Shaun Tan and Kitty Crowther.
Isol, born Marisol Misenta, is an illustrator, cartoonist, graphic artist, writer, singer and composer from Buenos Aires.
Her works have been published in around 20 countries, including 10 titles of her own and collaborations with Argentinean poet Jorge Lujan.
The jury praised Isol for creating "picture books from the eye level of the child".
Her book, Tener un patito es util, (It's useful to have a duck) can be read from two directions with two different results - one story about what a boy can use a duck for and the other showing what a duck can use a boy for.
Isol will be presented her award in Stockholm on 27 May.