Radio listeners to choose best DJ at Sony Awards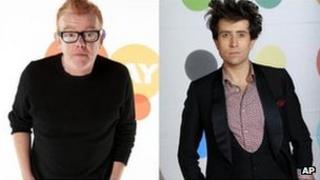 BBC breakfast radio hosts Chris Evans and Nick Grimshaw could be doing battle with hospital radio presenters in a competition to find the UK's best DJ.
The winner of the inaugural Sony Golden Headphones Award will be decided entirely by public vote.
Any radio host or sidekick over the age of 18 who has a regular slot on a UK-based radio programme can register their name to take part.
The winner will be revealed at the Sony Radio Academy Awards on 13 May.
Awards chairman John Myers said: "The Sony Golden Headphones Award has come about as a direct result of the feedback we have received from our members asking how they can further involve themselves with these prestigious awards.
"It is the public's opportunity to vote for their favourite presenter and is open to any presenter on any station in the UK."
Voting opens on 15 April and will run until 10 May, with a leaderboard featuring the top 20 contenders updated in real time.