Wachowskis embark on Netflix TV series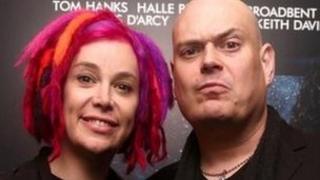 The creators of hit film trilogy The Matrix are making their TV debut with a science fiction series produced exclusively for Netflix.
Directors Andy and Lana Wachowski have teamed up with the online streaming service for the 10-episode series, entitled Sense8.
"Several years ago, we had a late night conversation about the ways technology simultaneously unites and divides us."
"Out of that paradox Sense8 was born," the directors said in a statement.
Described as a "gripping tale of minds linked and souls hunted", the show will debut in late 2014, Netflix confirmed on Wednesday.
It marks the first television project for the Wachowski siblings, whose movies include V for Vendetta, Speed Racer and Cloud Atlas, co-directed with Tom Tykwer.
The subscription-based streaming service previously announced their intention to make at least five original shows every year, kicking off with the US remake of House of Cards - which was released in February with Kevin Spacey in the lead role. A second series is due out next year.
This spring, Netflix will premiere the horror series Hemlock Grove and the resurrected comedy Arrested Development.