Hilary Mantel to sit for TV contest-winning painter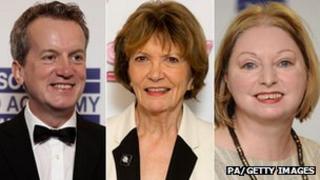 The opportunity to paint a portrait of double Booker-winning author Hilary Mantel is up for grabs in a new TV talent show fronted by comedian Frank Skinner and Dame Joan Bakewell.
The winner of the six-part Sky Arts series will land a £10,000 commission to depict the Wolf Hall writer.
All the finalists will have their work hung in the National Portrait Gallery, where a winner will be selected.
The successful artwork will then be displayed at the British Library.
Sandy Nairne, director of the National Portrait Gallery, will choose the victor with the other judges.
They include the Royal Academy's Kathleen Soriano and Tai-Shan Schierenberg, winner of the 1989 BP Portrait Award.
Heats will take place at art festivals over the summer, where competitors will be challenged to portray one of three sitters.
"I love the idea of rolling into town with our portrait roadshow and seeing who's got the guts and talent to step up to the easel," said Skinner.
"I hope it inspires everyone to tap into their creative spirit," added Dame Joan, suggesting the series might reveal "the next Rembrandt".
Portrait Artist of the Year will be screened from November on Sky's dedicated arts channel.
The National Portrait Gallery already has one portrait of Mantel in its collection, by the photographer Sally Soames.