Catherine Tate joins David Walliams sitcom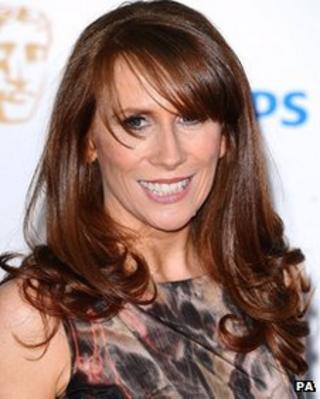 Catherine Tate has been added to a star-studded cast for David Walliams' new BBC One sitcom.
The Dr Who actress joins Walliams in Big School, which also features Philip Glenister and Frances de la Tour.
The six-part series is set in a secondary school and centres around a dysfunctional staff room.
It follows news that Walliams' Little Britain sidekick Matt Lucas is to star in a new silent comedy series about an elderly, eccentric aristocrat.
Walliams, who co-wrote Big School with writing team the Dawson Brothers, plays 40-something chemistry teacher Mr Church, who has taught at Greybridge School for years.
Tate takes on the role of new recruit Miss Postern, a French teacher who has never been to France, while Life on Mars star Glenister is lothario PE teacher Mr Gunn and de la Tour - best known for her role as Miss Jones in the 1970s sitcom Rising Damp - is no-nonsense headmistress Ms Baron.
Other cast members include Joanna Scanlan as nosey drama teacher Mrs Klebb, Steve Speirs as Mr Barber the gloomy geography master, and Daniel Rigby as the music teacher who fancies himself as a rock star.
Mark Freeland, BBC head of in-house comedy said: "Led by David Walliams, it's an absolute privilege to work with such a brilliant cast and off-screen production team.
"Like my Latin GCSE, nothing can go wrong. At least that's what I thought at the time".
Filming is due to begin in the next few weeks.
Lucas said his new BBC show, provisionally entitled Pompidou, was inspired by his love of silent-movie legends Charlie Chaplin and Laurel and Hardy and would be "full of new characters but no dialogue at all".
Lucas and Walliams last worked together in 2011's airport-based comedy Come Fly With Me, which followed their hugely successful sketch show Little Britain.