Museums vie for £100,000 Art Fund Prize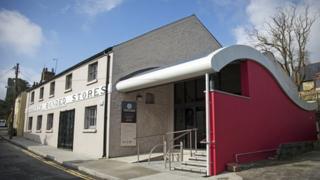 A Pembrokeshire museum that reopened in 2012 after being closed for nine years is among 10 venues in the running to be named the UK's museum of the year.
Narberth Museum shut in 2003 when its building was sold. Since relocating, it has been run mainly by volunteers.
It will compete for the £100,000 Art Fund Prize with the new £35m Hepworth Wakefield gallery and the Kelvingrove Art Gallery and Museum in Glasgow.
The Baltic art gallery in Gateshead and Canterbury's Beaney are also nominated.
The annual prize, now in its 11th year, rewards "innovation and creativity in bringing objects and collections to life".
London is represented on the list by the Horniman Museum and Gardens, the Dulwich Picture Gallery and the William Morris Gallery.
Also in contention are the Museum of Archaeology and Anthropology in Cambridge and Preston Park Museum and Gardens in Stockton-on-Tees.
Art Fund director Stephen Deuchar said: "As the national charity for art, we hope that by shining a light on the 10 finalists we'll encourage people to visit and celebrate these bright beacons of culture across the UK."
Deuchar is joined on the judging panel by Daily Telegraph arts editor Sarah Crompton, writer and broadcaster Bettany Hughes, historian Tristram Hunt MP and the artist Bob and Roberta Smith.
Last year's prize was awarded to the The Royal Albert Memorial Museum in Exeter, which reopened in 2011 after a £24m renovation.
This year's winner will be announced live on BBC Radio 4's Front Row on 4 June.