Evil Dead kills off competition at US box office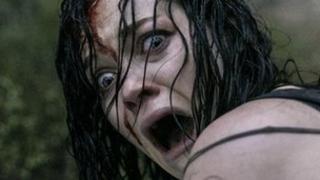 Horror remake Evil Dead has triumphed at the US box office earning $26m (£17m) in its opening weekend.
In the race for second-place, last week's top film G.I. Joe: Retaliation tied with the animated comedy Croods, both taking an estimated $21.1m (£14m).
They were followed by Steven Spielberg's 3D debut of the 1993 hit Jurassic Park which took $18.2m (£12m).
Action thriller Olympus Has Fallen, starring Gerard Butler, rounded off the top five with sales of $10m (£6.5m).
Evil Dead, directed by Fede Alvarez and produced by Sam Raimi - who also wrote and directed the 1981 cult classic, tells the gory story of a group of five twenty-something friends who are terrorised by and possessed by demons during a trip to a cabin in the woods.
Produced on a modest budget of $17m (£11m), it is well on its way to making a profit.
Video nasty
"It's one crazy ride, that movie. I have to think Sam Raimi is so proud in remaking this film that it turned out so well,'' said Rory Bruer, head of distribution for Sony.
"It's such a visceral ride, where you're holding on to your seat or holding on to the person next to you," he added.
Considered one of the most violent films of its time, the original film, The Evil Dead, caused controversy when it was released in 1981.
It was given an X-rating and was included in a group of "video nasties" - a term used to describe extremely violent and disturbing, low-budget horror films from the US and Italy.
Its comic book levels of gore and violence have now helped it become something of a cult classic.
Director Raimi, who had to raise the money needed for his original film - borrowing from friends and family, went on to fame and fortune, rebooting the Spider-Man franchise in 2002.
He recently directed box office number one film Oz The Great and Powerful, which took the number seven spot this weekend with $8.2m (£5.3m) in box office receipts.
The Disney film is the year's best-seller, earning a total of $212.8m (£139m) after five weeks in cinemas.
While box office earnings in north America have risen slightly on last year, none of the films in this week's chart came close to the revenues earned from The Hunger Games a year ago, which led over the same weekend in 2012 with $33.1m (£21.6m).
But with takings totalling $134m (£87.5m) - an 8.5% rise on the same period last year - according to box-office tracker Hollywood.com, the current selection of movies has provided a boost after three consecutive weekends of falling revenues.
Hollywood studios are hoping new releases such as Iron Man 3 in May, followed by Star Trek: Into Darkness will force a strong start to the summer season.
"When you have a record box-office year like we did in 2012, every weekend in 2013 is becoming a challenge to best or even equal what we did the year before," said Hollywood.com analyst Paul Dergarabedian.
"The summer movie season can't come a moment too soon. We definitely need it," he added.