Dick and Dom's Hoopla! challenge criticised by Ofcom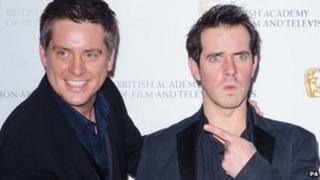 The BBC has been reprimanded for an episode of Dick and Dom's Hoopla! in which a young girl was left retching after an eating challenge.
The media regulator, Ofcom received two complaints when the game ended with the 11-year-old "vomiting into a bucket".
The complainants said the girl and a boy appeared distressed after being encouraged to drink "vile concoctions" in front of a live audience.
In its ruling, Ofcom said the BBC failed to take "due care" of the girl.
The regulator said she "appeared to be in some discomfort" during the item called Gypsy Rose Dick, during which she drank a mixture of mayonnaise, spaghetti hoops and tomato soup.
It also criticised the approach taken by Dick, the presenter, whose real name is Richard McCourt, describing it as "verging on the aggressive".
Emotional welfare
It said "he repeatedly shouted at, berated and chided the girl and the boy, albeit in a comedic manner, to urge them to eat the various foods they were presented with".
The BBC said the presenters of the CBBC show were well known for their "anarchic" humour and the audience was "briefed about the nature of the programme".
It also said the girl had volunteered to take part and her mother, who accompanied her on the show, had given written consent for her involvement.
Her mother also told the BBC "she had been very impressed by the care the programme-makers had taken of her daughter".
Both children were given examples of food that they might be encouraged to eat and told they could refuse it at any time.
The BBC told Ofcom there "was no pressure to participate" and while the girl "did appear to retch... she was not sick".
However, Ofcom said that regardless of the measures taken by the broadcaster, it "did not take adequate steps at this stage to ensure that due care was taken over the girl's physical and emotional welfare".
Ofcom said it was "extremely concerned... that at no time pre-broadcast did any BBC staff assess or query the potential risk or appropriateness of organising an eating competition for children".
The regulator was also "concerned that the BBC did not provide evidence of whether the girl was provided with meaningful, child-friendly information on any likely negative consequences of appearing in the programme.
"These might, for example, include that she might end up being sick in a bucket on television, or being mocked by her peers at school," said Ofcom.
The BBC accepted that, in the light of the complaints to Ofcom and a complaint to the BBC about the item, "the spectacle of [the girl's] obvious discomfort would have struck some viewers as going beyond acceptable boundaries, even though her subsequent participation in the programme made clear that her discomfort was temporary".