Film critic Roger Ebert funeral held in Chicago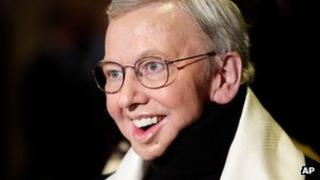 US film critic and writer Roger Ebert, who died last week, has been laid to rest in his native Chicago.
"He didn't just dominate his profession, he defined it," said Mayor Rahm Emanuel to mourners at Holy Name Cathedral on Monday.
Ebert, who wrote reviews at the Chicago Sun-Times for 40 years, died of cancer on 4 April.
"Roger spent a lot of time sitting through bad movies so we didn't have to," joked Mr Emanuel.
In a 90-minute funeral Mass, speakers took turns talking about Ebert's career and the health problems that left him unable to speak.
He lost his voice and much of his lower jaw after suffering from thyroid cancer and complications from surgery.
"He realised that connecting to people was the main reason we're all here and that's what his life was all about," said his stepdaughter Sonia Evans.
In his final blog entry, published just days before his death at the age of 70, Ebert had addressed his illness saying: "It really stinks that the cancer has returned and that I have spent too many days in the hospital.
"So, on bad days I may write about the vulnerability that accompanies illness. On good days, I may wax ecstatic about a movie so good it transports me beyond illness."
'End of an era'
Following his death last week, Hollywood lined up to pay tribute to Ebert. Director Martin Scorsese, who is producing a documentary on the writer, called his death "an incalculable loss".
Steven Spielberg added it was "the end of an era".
Speaking at the funeral, the Rev Jesse Jackson praised Ebert's early support for the films of Spike Lee and other black filmmakers.
"He respected what we had to say about ourselves. It was not his story but he understood the value of an important film was authenticity and not the fact that it depicted your interests."
Ebert's widow, Chaz, who received a standing ovation added: "It didn't matter to him your race, creed, colour - he had a big enough heart to accept and love all."
Ebert began his career at the Chicago Sun-Times, where he spent the next five decades penning biting, often funny reviews for movies.
It was there, in 1975, that he became the first film critic to win the Pulitzer Prize for Criticism, an award given to newspaper writers.
"Roger was 24-7 before anybody thought of that term," said John Barron, Ebert's former boss at the Sun-Times, who said he was among the first reporters to use a computer or send emails.
Towards the end of the 1970s, Ebert teamed up with fellow critic Gene Siskel for their TV review show, where they would give films a thumbs up or thumbs down gesture. They worked together until Siskel's death in 1999, following surgery for a brain tumour.
Ebert also authored more than 15 books about the movies and co-wrote several movies with cult director Russ Meyer.
In 2007, he was named the most powerful critic in America by Forbes magazine.