Ryan Gosling rides into crime and family thriller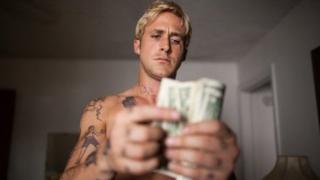 They became close friends working on the Oscar-nominated romantic drama Blue Valentine, and two years later actor Ryan Gosling and director Derek Cianfrance are collaborating again - on another low-budget film, The Place Beyond the Pines.
This time the Canadian actor co-stars with real-life girlfriend Eva Mendes as well as Bradley Cooper in a story of two men and their sons. Cianfrance calls it "an exploration of the father-son relationship".
"I was thinking about legacy, and what parents pass on to children, and how in seeking to escape repeating history, we sometimes run straight into the very destiny we've been trying to avoid."
However, 32-year-old Gosling says he had a much more prosaic reason for taking part. In playing his character Luke, a circus motorbike rider who turns to robbing banks to support his baby son, he was fulfilling a long-standing dream.
"I always had this romantic fantasy of robbing a bank," he says. "Obviously I am afraid of going to jail, and I am never actually going to do it. But in thinking about it, I'd figured out that doing it on a motorbike would be the way of getting away with the robbery.
"When we were filming Blue Valentine, I told Derek all about my idea, and he said, 'that's crazy, I am writing a movie about that.' So we knew we were meant to work together again."
Filming took place over a few weeks in Schenectady, New York State, in the wake of Hurricane Irene in August 2011. Production was halted for one day only, and during that time, Gosling says, he learned to ride a motorbike.
"Derek wants everything to be as authentic as possible, always, and so I was going to have to do most of my own stunts. So I spent a month riding around the countryside with Rick Miller, who does the Dark Knight stunts. It was the best preparation time for a movie I've ever had."
But the actual re-enactment of the robbery, Gosling says, was a let-down.
"It was very different to how I thought it was going to be. Derek wanted to shoot the bank robbery scene all in one take. So I was supposed to ride my bike to the bank, go in and rob it and get away, without any cut in the action.
"I had been fantasising about doing it for a long time, but Derek had hired real people, not actors, to be in the bank, and when I was finally standing on the counter, about to rob the place, I looked down and everyone was smiling and filming me with their mobile phones.
"So that scene actually went to about 18 takes and it was nothing like my dream at all. They weren't afraid of me, I was being far too entertaining. I was totally destroyed."
'Bad decisions'
The finished product is something "with all the elements of a heist film, but it's actually quite different," he says.
"I've been part of these movies where there are bullets flying around, and nobody gets hurt, everyone's fine and there are no consequences for anyone's actions. But in a film like this, only two shots are fired throughout the entire story. Yet they resonate. It's all about suffering the repercussions of your decisions."
Gosling says playing a man whose life changes upon discovering he has a son gave him "no thought" about having a family in the future. But he did "feel shame" about "decisions that can leave a bitter legacy in families".
"I made my character this guy who had a lifetime of bad decisions and who didn't think things through. When he has a child, he sees himself for what he has become.
"I understood how a grown man would look at this person, who is so pure and new, and feel like a mess. How could you be a father to anyone?"
Gosling has a history of appearing in low-budget films like 2011's Drive, directed by Nicholas Winding Refn, and 2006's Half Nelson, for which he received an Oscar nomination. Recently though, he's made a name for himself with a string of bigger movies like Crazy, Stupid Love, The Ides of March and Gangster Squad.
Gosling is currently riding the wave of having acquired heartthrob status but actor plays it all down.
"It's probably a sign it's all about to go wrong," he says, "I hope audiences don't get sick of me. I took a break a few years ago and went on tour with my band, and that was good for me. You don't get to learn much about real life when you're on set and sitting in chauffeur-driven cars all the time."
Since completing The Place Beyond The Pines, Gosling has said he'd like to take another hiatus from acting, telling the Associated Press: "I've been doing it too much and I've lost perspective on why I am doing it. I need a break from myself as much as I imagine the audience does."
However Gosling says he does have a new passion instead - he's aiming to make his directorial and writing debut with How To Catch A Monster, a gothic thriller.
Pines co-star and girlfriend Mendes will also feature in the film, as well as Doctor Who star Matt Smith.
"I am really nervous," he confesses, "although now I have my cast together I am really excited. But doing this Pines movie has inspired me, as Derek makes things look effortless as a director. Film-making that is invisible is also ego-less. That's the kind of director I admire."
The Place Beyond The Pines is released in the UK on 12 April.