Rising Damp to return on stage with UK tour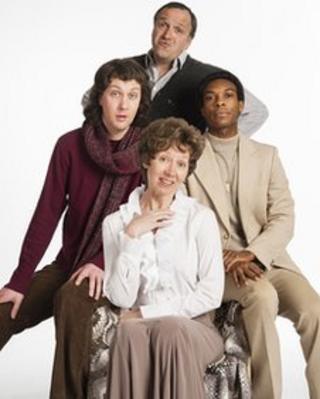 Classic sitcom Rising Damp is to return on stage for a UK tour directed by one of its original TV stars.
Don Warrington, who played miser landlord Rigsby's tenant in the 1970s series, will direct the new production which opens in Blackpool on 14 May.
Rising Damp was originally based on a stage play by writer Eric Chappell, in which Warrington also starred.
The new stage adaptation will be performed in nine theatres including Norwich, Sheffield and Richmond.
The original comedy series, which starred Leonard Rossiter as Rigsby, aired on ITV between 1974 and 1978.
It was the highest-ranking ITV sitcom on the 100 Best Sitcoms poll run in 2004 by the BBC.
Set in a run-down Victorian house, it followed the misfortunes of Rigsby and his tenants Alan, Philip and Miss Jones - the object of his affections.
The play's cast includes Stephen Chapman as Rigsby, Paul Morse as Alan, Cornelis Macarthy as Philip and Amanda Hadingue as Miss Jones.
Director Warrington, who appeared opposite Rossiter and Richard Beckinsale on TV, is known for his roles in the BBC detective series Death In Paradise and the sixth series of Strictly Come Dancing in 2008.
Rising Damp was also made into a feature film in 1980 starring Warrington and Rossiter, but without Beckinsale who had died the year before, aged 31.