Lord Puttnam: British cinemas 'must adapt or die'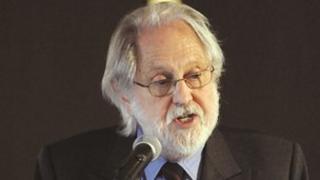 Cinemas must ensure customers have a "gold standard theatrical experience" or risk losing customers "forever", film producer Lord Puttnam has advised.
Addressing members of the Film Distributors' Association, Lord Puttnam warned about the intensifying competition from the home entertainment sector,
"A dissatisfied customer could be one that is lost forever," he said.
"In today's connected consumer age, no sector can afford to stand still."
The film industry, the Chariots of Fire producer told the BBC afterwards, needed to "wake up and smell the coffee ".
Speaking in his capacity as FDA president, the 72-year-old said cinema, like any "successful brand... consists fundamentally of a promise".
Consumers, he told an audience at London's Cafe Royal, "will inevitably compare the promise with the reality of their most recent experience".
"It can take a long, long time for trust, once damaged, to be restored," he continued, citing "the world of journalism" and "the realm of ready meals" as recent examples.
He cited the way cinemas were now screening plays, opera, ballets and concerts - events that were redefining "what a modern cinema actually is".
"You either adapt or die," Lord Puttnam continued, citing music retailer HMV and rental chain Blockbuster as examples of companies that had failed to do so.
Thatcher a Chariots 'fan'
Lord Puttnam, a Labour peer since 1997, used Wednesday's event to launch a new initiative offering young people advice on a career in film distribution.
He also offered a few personal insights on the late Baroness Thatcher and her own contributions, beneficial and otherwise to the British film industry.
Her government's axing of the Eady Levy - a tax on box office receipts that channelled the proceeds back into domestic film production - had been very damaging, he told the BBC.
Yet he said Mrs Thatcher had also expressed a wish to "do more" for the UK film industry - partly, Lord Puttnam claimed, at the instigation of US President Ronald Reagan.
The Conservative PM, he continued, had been a "huge fan" of Chariots of Fire, the Oscar-winning 1981 sports drama that Hugh Hudson directed and he produced.