Sylvia Plath performance planned for Literature Festival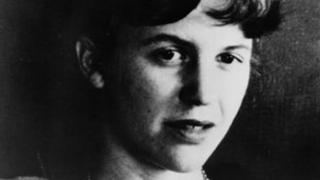 An all-female cast will perform a collection of Sylvia Plath's poems at this year's London Literature Festival.
More than 35 performers will each read a poem from Ariel, a posthumous collection which includes some of the poet's best known works.
Juliet Stevenson, Harriet Walter, Anna Chancellor and Samantha Bond will be part of the line-up.
The readings will be taken from the original manuscript found on Plath's desk after her death aged 30.
Ariel, which was published in 1965, includes Lady Lazarus, Daddy and Fever 103 Degrees.
The Southbank Centre's James Runcie said the work is "one of the greatest collections of poetry ever written".
He said: "This is an opportunity to hear her poems in the order she left them at her death - passionate, angry, ferociously observed and yet also hopeful, beginning with the word 'love' and ending with 'spring'."
"I hope this will be an inspiring tribute to both her memory and her achievement," he added.
Plath's daughter, Frieda Hughes, will introduce the performance at the Royal Festival Hall in London on Sunday 26 May.