Kenny Rogers to join Country Hall of Fame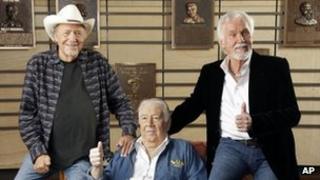 Veteran singer Kenny Rogers has told fans he is "very excited" to learn he is to be inducted into the Country Music Hall of Fame in Nashville.
"I think it's so cool," the 74-year-old performer said in a personal message posted on video sharing site YouTube. "I'm glad it happened before I died."
"Everything pales in comparison to this," Rogers told reporters later.
Singer Bobby Bare and producer "Cowboy" Jack Clement will also be inducted at a ceremony later this year.
The new inductees will bring the membership of the Country Music Hall of Fame, founded in 1961, to 121.
Already among that number is singer Dolly Parton, with whom Rogers performed on the 1983 duet Islands in the Stream.
Houston-born Rogers is also known for such country standards as The Gambler and Ruby, Don't Take Your Love To Town.
Last month it was announced the white-haired septuagenarian would perform on the main Pyramid stage at this year's Glastonbury festival.
Bare, 78, said it was "real huge" to be recognised for a career that has spanned six decades, calling his induction "the culmination of a 19-year-old boy's dream".
Clement, 82, played a key role in the careers of Johnny Cash and Jerry Lee Lewis and later produced tracks for U2's Rattle and Hum album.