Mork and Mindy star Jonathan Winters dies at 87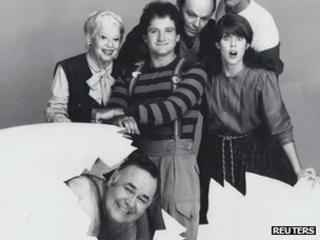 US comedian and actor Jonathan Winters - best known for his role in sitcom Mork and Mindy - has died aged 87.
A pioneer of improvisational stand-up comedy, he influenced a generation of comedians including Robin Williams, Jim Carrey and Steve Martin.
On the big screen, he appeared in films such as It's a Mad, Mad, Mad, Mad World and The Loved One.
But it was his role as Williams's on-screen son in Mork and Mindy that brought him international fame.
The 1981-82 show saw him play Mearth, the off-spring of an alien race that ages backwards, who - having hatched from a giant egg - was the size of an adult but had the mind of a child.
Williams paid tribute to the actor saying: "First he was my idol, then he was my mentor and amazing friend. I'll miss him huge. He was my Comedy Buddha."
Other comics also took to Twitter to pay their respects including Carrey who said Winters was "the worthy custodian of a sparkling and childish comedic genius".
Steve Carell said he was "wildly funny" while Kathy Griffin said "there was no-one like him".
Dick Van Dyke added: "The first time I saw Jonathan Winters perform, I thought I might as well quit the business. Because I could never be as brilliant."
Born in Dayton, Ohio, Winters joined the Marines aged 17 and served two years in the South Pacific.
In the early 1950s, after stints as a radio disc jockey and TV host in his home state, he moved to New York where he became a nightclub comic doing impressions of John Wayne and Cary Grant, as well as creating new characters of his own.
He also made regular appearances on The Tonight Show with hosts Jack Paar and then Johnny Carson, The Andy Williams Show and his own TV variety shows - The Jonathan Winters Show and The Wacky World of Jonathan Winters - in the late 1960s and early 1970s.
In later years, his voice talents were used on many cartoons and animated films. He played three characters in the Adventures of Rocky and Bullwinkle movie in 2000 and he provided the voice of Papa Smurf in the 2011 Smurfs film - a role he reprised for its sequel due for release this July.
Winters won a best supporting actor Emmy for playing Randy Quaid's father in the sitcom Davis Rules in 1991. He was nominated again in 2003 as outstanding guest actor in a comedy series for an appearance on Life With Bonnie.
He also won two Grammys - one for his work on The Little Prince album in 1975 another for his Crank Calls comedy album in 1996.
He also won the Kennedy Center's Mark Twain Prize for humour in 1999, a year after Richard Pryor.
Winters' friend, Joe Petro, said the actor died at his California home of natural causes surrounded by friends and family. He is survived by two children.