New James Bond book by William Boyd to be called Solo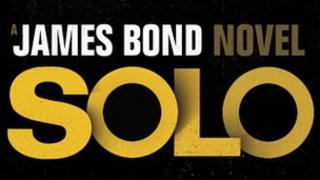 The next James Bond book will be called Solo, author William Boyd has announced.
"Sometimes less is more," said Boyd about the "Bondian" title of his novel, which continues Ian Fleming's series.
"Not only did it fit the theme of the novel perfectly, it's also a great punchy word," he added.
Details of the story have not been announced but publishers have revealed it features the 45-year-old agent travelling across Africa and America.
"In my novel, events conspire to make Bond go off on a self-appointed mission of his own, unannounced and without any authorization," the writer added.
Boyd hoped that the "juxtaposed O's of SOLO" will make the readers "subliminally aware" of Bond's famous 007 code name.
Ian Fleming Publications, who look after the literary James Bond brand, said the title fitted "perfectly alongside the other books in the Bond canon".
Richard Cable, managing director of the book's publishers Vintage called Solo an "absolutely brilliant book".
Boyd is the third author to be invited by the Fleming estate to write an official Bond novel.
He follows in the footsteps of the American thriller writer Jeffery Deaver, who wrote Carte Blanche in 2011, and Sebastian Faulks, whose Devil May Care was released in 2008.
Boyd said he "accepted at once" when offered the chance to take on the famous spy franchise.
Solo will be published on 26 September in the UK.