Oblivion cruises to top of UK box office chart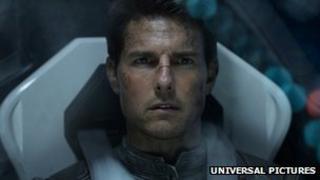 Sci-fi action film Oblivion has cruised to the top of the UK and Ireland box office.
Directed by Tron: Legacy's Joseph Kosinski, the film stars Tom Cruise as a repairman stationed on a barren future Earth evacuated after an alien invasion.
The film made £4.96m, including £1.6m from previews, knocking The Croods into second place.
The animation about a prehistoric family had been top for three weeks.
It has taken a total of £22.7m in the UK and Ireland since its release.
Cruise's last action movie, Jack Reacher, had failed to topple The Hobbit from the number one spot when it was released after Christmas.
There were two further new entries in the top five.
Scary Movie 5 was third with takings of £2m, while fourth was The Place Beyond the Pines, a crime drama starring Ryan Gosling, Bradley Cooper and Eva Mendes, which took £671,119 after being shown at 114 screens.
GI Joe: Retaliation fell from last week's number two slot to number five, with takings of £525,234 across 407 screens.
There were no other new entries this week, with the top 10 being completed by fantasy film Jack The Giant Slayer (6), Oz: The Great and Powerful (7), Trance (8), Dark Skies (9) and The Host (10).