Rylance will 'probably beat me' to Olivier says McAvoy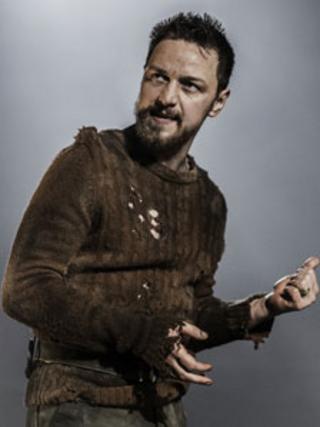 Actor James McAvoy has said he will "probably" be beaten to the best actor title at the Olivier awards this weekend by fellow nominee Mark Rylance.
The Scot is currently starring as Macbeth - also nominated in the best revival category - at the Trafalgar studios in London.
He said: "The last time I got nominated for an Olivier I was up against Mark Rylance and I didn't win it because you can't beat him.
"He's the best actor in the world."
McAvoy was nominated in 2010 for his role in Three Days of Rain, directed by Jamie Lloyd - currently his Macbeth director -but lost out to Rylance, nominated for his role as Johnny 'Rooster' Byron in the hit play Jerusalem.
He added: "That'll probably happen again this year."
Rylance is in the running for his performance in Twelfth Night at Shakespeare's Globe.
The actors are up against Rafe Spall for Constellations, Rupert Everett for The Judas Kiss and Luke Treadaway for The Curious Incident Of The Dog In The Night-Time.
McAvoy has been widely praised for his role as the doomed, homicidal ruler in the play, set in a dystopian Scotland around fifty years into the future.
He said the cast were surprised when the nominations were announced: "We didn't realise that we were in the catchment, we thought we may have been in consideration the following year".
"Its just lovely to be nominated and for the company to get nominated for best revival, was just such an important thing for us because its an outpouring of energy in this show.
"It doesn't really work unless we try and hurt ourselves, physically and mentally and spiritually and its really nice and we've all got tickets and we're all going and we're going to get battered."
Injuries
McAvoy, who is currently sporting cuts and bruises and a heavily bandaged thumb due to the demand of the brutally physical role added he is proud to suffer for his art.
"My favourite kind of theatre is when I see the actors bleed and sweat blood and look like they're having heart attacks. You've got to try and dash yourself without breaking yourself too much."
Macbeth was the first production in Lloyd's Trafalgar Transformed season. According to Lloyd, around 35,000 people have seen the play with 5,000 using a discounted price scheme including young people, schoolchildren, and charities working with former prisoners and young offenders.
The season's next production - also to be directed by Lloyd - is Harold Pinter's The Hothouse - set in a 1950s mental institution. It will star John Simm and Simon Russell Beale.
Beale, who recently starred in Privates on Parade in the West End, said: "I read the play quickly and there was one thing I found very exciting which was chucking a glass of whisky in someone's face.
"I gasped, what seemed like an office drama me suddenly became something different and that's why I decided to do it."
Simm, who can be seen in the BBC's latest drama The Village, heaped praise on his co-star and director saying: "I did Pinter's Betrayal last year and it was such fun to do and I got a little bit obsessed by him.
"Then, this came up this year which was serendipity I guess and it was Jamie - who I'm a big fan of - and the chance to work with Simon is a once in a lifetime thing... maybe."