The Duchess of Malfi to open Sam Wanamaker Playhouse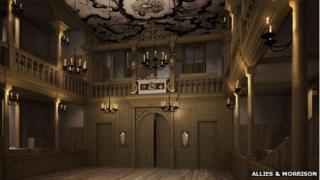 John Webster's macabre tragedy The Duchess of Malfi has been announced as the opening production for a new indoor theatre at Shakespeare's Globe.
The Sam Wanamaker Playhouse, a recreation of a 17th Century Jacobean theatre, will be lit predominantly by candles.
Directed by the Globe's artistic director Dominic Dromgoole, The Duchess of Malfi opens on 9 January 2014.
A newly-formed youth company will also perform in the space.
Webster's play tells the story of a widowed duchess who re-marries against the wishes of her malevolent brothers, propelling them to exact murderous revenge. It was performed at the original Globe in 1613.
The Duchess of Malfi will be followed in February by Jacobean romp The Knight of the Burning Pestle, by Francis Beaumont.
'Shining jewels'
Francesco Cavalli's opera L'Ormindo will open at the end of March, a first-time collaboration between the Globe and the Royal Opera. Unperformed in the UK for almost 50 years, it will be directed by Kasper Holten, director of opera at the Royal Opera House.
In the tradition of the child actor companies of Shakespeare's time, the Globe is to form and train a company of 12- to 16-year-olds - the Globe Young Players - who will perform John Marston's The Malcontent in April.
"The Sam Wanamaker Playhouse offers us a unique opportunity to explore the theatre practice of Shakespeare's day and the theatrical context within which he worked," Dromgoole said.
"In time we will perform the plays of Shakespeare in there but we could not be more delighted than to be opening this theatre with three such shining jewels from this time - a macabre tragedy, a riotous comedy and a beautiful philosophical satire.
"We hope that the Wanamaker Playhouse will afford as many insights and prove as theatrically rejuvenating, as the Globe has proved over the last 16 years."
The Sam Wanamaker Playhouse project, which has been developed without government subsidy, still has £600,000 still be raised from a £7.5m target.
The new 340-seat theatre will enable the Globe to offer live theatre throughout the year. The open-air Globe theatre - which opened in 1997 - stages productions from April to October.
Sam Wanamaker, the Globe's founder, always intended the Bankside site to have a second, indoor space alongside its open-air playhouse. The US director, father of My Family star Zoe Wanamaker, died in 1993 at the age of 74.