Lauryn Hill tax evasion sentencing postponed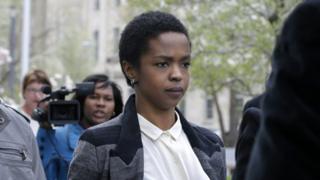 Former Fugees singer Lauryn Hill's sentencing for tax evasion in the US has been postponed after she failed to make the repayments.
Magistrate Judge Madeline Cox Arleo criticised Hill for not making an effort to pay the taxes calling it a "criminal matter".
The eight-time Grammy winner pleaded guilty last year to not paying taxes on $1.8m (£1.2m) earned from 2005 to 2007.
The little-seen singer did not speak and left the court without commenting.
"This is not someone who stands before the court penniless,'' Judge Arleo said to Hill's lawyer, Nathan Hochman.
"Actions speak louder than words, and there has been no effort here to pay these taxes,'' she added.
It was revealed in court that Hill has paid $50,000 (£32,853) of the $500,000 (£328,530) she promised to pay when she was charged with wilfully failing to file income tax returns.
"I fully expect that by 3 May, Ms Hill will be able to pay back all the restitution she has,'' Hochman said.
The singer could face up to 36 months in prison when she is sentenced on 6 May.
Hill started her career with Grammy-award winning hip hop group Fugees alongside Wyclef Jean and Pras Michel.
She released her acclaimed solo debut album, The Miseducation of Lauryn Hill, in 1998 which won five Grammy awards and sold over 19 million copies worldwide.