Broadway box office surges ahead of Tony Awards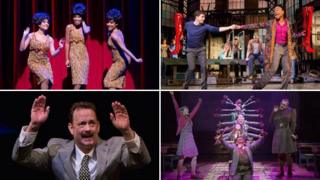 Four recent Broadway debuts have broken the $1 million (£645,911) weekly box office sales mark since they opened this month.
Motown the Musical, which tells the story of record label founder Berry Gordy, took $1.2m (£775,093) last week.
British adaptations of Roald Dahl's Matilda and 2005 film Kinky Boots also broke the million dollar barrier.
Tom Hanks's performance in Lucky Guy, tipped to earn him a Tony nomination later, was the biggest seller.
The double Oscar winner, who is making his Broadway debut in the late Nora Ephron's play, received high praise from critics.
Kinky Boots, about a real-life shoe factory that found a new outlet in the fetish footwear market, had its highest gross sales since performances began in March.
The production, which features music from pop singer Cyndi Lauper, is expected to be nominated for best musical at this year's Tonys.
Matilda the Musical, written by Tim Minchin and Dennis Kelly, received rave reviews from US critics when it opened in April.
The production broke an Olivier awards record last year when it took home seven prizes and is expected to receive a number of Tony nominations.
Motown the Musical, which features songs by Diana Ross, Smokey Robinson and Marvin Gaye, was called a "mess" by Variety's reviewer when it opened in mid-April.
But its box office success, which saw advance sales of more than $16m (£10.3m) according to Hollywood Reporter, does not guarantee Tony award acclaim.
Playwright and activist Larry Kramer will receive the annual Isabelle Stevenson Award for his "substantial contribution of volunteered time" at the Tony ceremony on 9 June.
The prize is given to an individual who has made significant contributions to humanitarian or charitable causes.
Kramer, best known for his landmark play The Normal Heart, will be honoured for his work as an advocate of gay rights and co-founder of the Gay Men's Health Crisis.
The Tony nominations will be announced by former winner Sutton Foster and Modern Family star Jesse Tyler Ferguson at 13:30 BST.