Record initial ticket sales for BBC Proms concerts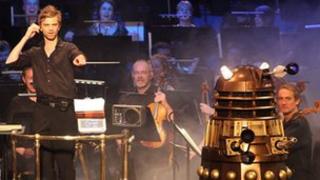 A record 114,000 tickets for the BBC Proms 2013 have sold since booking opened on Saturday, a 17% rise on 2012.
More than 100,000 tickets sold online, while the rest were bought by phone, post or in person from the Albert Hall.
BBC Proms director Roger Wright described the "record-breaking" sales as a "thrill".
The Doctor Who Proms will return for the show's 50th anniversary, while BBC 6 Music will host its first Prom with Brit award winner Laura Marling.
The Doctor Who Proms, which celebrates the show's half-century birthday, will include scenes from the long-running science-fiction show soundtracked with music written by its teenage fans.
The most popular Proms in terms of ticket sales included the First Night of the Proms, conducted by Sakari Oramo in his inaugural performance as chief conductor of the BBC Symphony Orchestra, on 12 July, plus two Doctor Who Proms on 13 and 14 July and both Proms by the Bavarian Radio Symphony Orchestra with Mariss Jansons on 8 and 9 August.
Wright, who is also the controller of BBC Radio 3, added that there were still tickets available for the "vast majority of events" and that "you can always come and Prom on the day".
He said that every Prom would be live on BBC Radio 3, and that there would be more Proms broadcast on BBC television and across BBC radio stations than in previous years.
Up to 1,400 Promming tickets are released on the day of each Prom, priced at just £5 for the eighth consecutive year, and returns are often available via the Royal Albert Hall box office.
Jasper Hope, the chief operating officer for the Royal Albert Hall, said: "With 50 years of the Doctor coinciding with anniversaries for Wagner, Verdi and Britten amongst others, not to mention concerts by the Stranglers and the Vienna Philharmonic, we expected another level of demand this year but this is extraordinary."
The festival, which begins on 12 July, includes 92 concerts at the Royal Albert Hall and four across the UK.
The Proms will celebrate the 200th year of Wagner's birth with performances of his Ring cycle by Staatskapelle Berlin, conducted by Israeli-Argentine Daniel Barenboim.
A special concert dedicated to Sir Colin Davis, who died on 15 April, will be held on 20 August - when he was due to conduct the London Symphony Orchestra with tenor Ian Bostridge.
The BBC Proms runs from 12 July to 7 September. The full list of events can be found at the BBC Proms website.