Ian Katz appointed Newsnight editor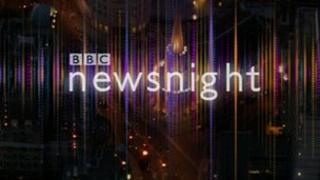 The Guardian's Ian Katz has been appointed editor of BBC Newsnight, replacing Peter Rippon who left the programme in the wake of the Jimmy Savile crisis.
Rippon was in charge of Newsnight when an investigation into child abuse by Jimmy Savile was dropped in late 2011.
Katz has worked at The Guardian since 1990 and is now its deputy editor.
Jamie Angus, Newsnight's acting deputy editor, is the new editor of Radio 4's Today programme.
Katz will take over at Newsnight in July from Karen O'Connor, who has been the BBC Two programme's acting editor since November.
"I'm incredibly excited to be joining a programme I've watched and loved all my adult life," said Katz.
"It's had serious and well publicised problems over the last year but I'm looking forward to working with the hugely talented team to make it once again the world's most intelligent, sophisticated and exciting news programme."
The Jimmy Savile abuse scandal was revealed in an ITV documentary in October 2012.
Soon after it was revealed that Newsnight had begun an investigation into the late former BBC presenter, but had dropped it in the early stages.
After the publication of a blog post explaining his editorial decision to end the Savile investigation was found to have factual errors, Rippon was asked to "step aside" while an inquiry was held.
He has since taken up a new role developing the online BBC News archive.