Novel written entirely in verse makes book shortlist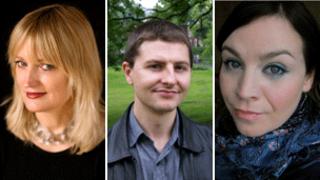 A book written entirely in verse is one of three debut novels to be shortlisted for the Desmond Elliott Prize.
The Marlowe Papers by Ros Barber is up against The Universe Versus Alex Woods by Gavin Extence and The Panopticon by Jenni Fagan.
The award for best debut novel, now in its sixth year, is named after the distinguished publisher and literary agent who died in 2003.
The winner of the £10,000 prize will be revealed in central London on 27 June.
The 2013 shortlist was selected from a longlist of 10 novels by a panel of judges chaired by best-selling novelist Joanne Harris.
Harris said the panel was impressed by the "confidence" of the authors' writing.
"What is so startling about this shortlist is that here we have three first-time novelists ambitiously pushing the boundaries of style and form," she said.
'Brave and innovative'
The Marlowe Papers focuses on the mystery of Christopher Marlowe's untimely death through the voice of the Elizabethan poet and playwright himself.
Harris, whose own works include Chocolat and Five Quarters of the Orange, praised Barber's "brave and innovative" use of verse.
In his book, Extence - a former child chess champion - tells the story of a 10-year-old boy who suffers an extraordinary accident.
The judges noted it was "precisely plotted [with] an audaciously realised circular narrative".
Fagan's book tells of a 15-year-old girl who is taken to a home for chronic young offenders.
The Panopticon has already been praised by the former Poet Laureate Andrew Motion, who called Fagan "the real thing".
Harris said the judges found the use of the Scottish vernacular in The Panopticon "original and assured".
"If this is the benchmark for debut novels today, the future of UK and Irish literature is in safe hands," she added.