Aretha Franklin postpones June concerts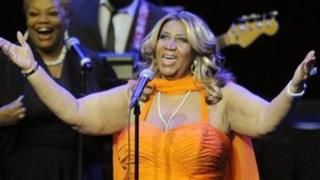 Aretha Franklin has postponed three concerts in June, a week after health issues forced her to cancel two shows in May.
David Brokaw, spokesman for the 'Queen of Soul', did not state why the shows in Canada and Michigan had been postponed.
He said: "She's going to resume her schedule in July."
Franklin, 71, cancelled performances in Chicago and Connecticut this week to undergo undisclosed medical treatment.
She was due to perform at Ottawa Jazz Festival, in Canada on 26 June.
Catherine O'Grady, the director of the festival told the Ottawa Citizen newspaper that Franklin was too ill to appear.
"It's doctor's orders. She's really not well," she said.
Franklin appeared on the season finale of American Idol last week via satellite, singing a medley of her hits with the show's female finalists.
Considered to be one of the giants of American pop music during the 1960s and 1970s, Franklin cancelled a concert tour in 2010 to undergo surgery for a health issue.